a not-exactly-official guide to oxford's rowing culture.
"Where the remote Bermudas ride / In th' ocean's bosom unespied,
From a small boat, that rowed along, / The list'ning winds received this song…
And all the way, to guide their chime, / With falling oars they kept their time."
–Andrew Marvell, "Bermudas"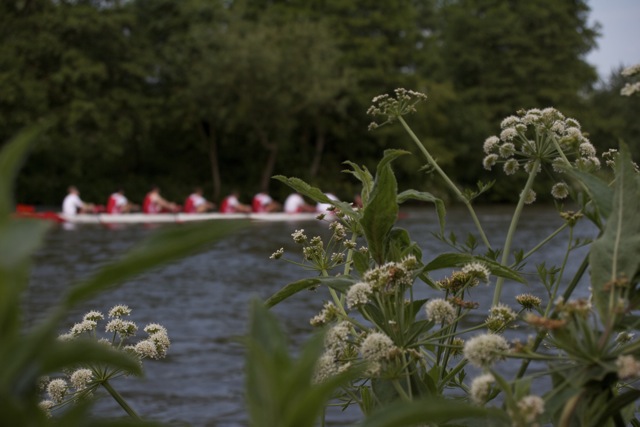 When it comes to staying in hostels, I've found who you'll be sharing a dorm with is by far the biggest gamble. For the first half of my week in Croatia, my eight-bed room was home to a garrulous Polish woman who stayed tucked into her duvet all day—"If only it wasn't raining, I would go for a walk"—and a group of Essex girls whose belongings had a way of imploding across the floor—"Wanna come see the sea orchid with us?" "You mean sea organ?" "Yeah, whatever!"
But then, miraculously, the latter half of the week brought a group of Oxford students all from the same programme—a master's in mathematical modelling. "And what are you studying?" they asked. I covered my mouth and mumbled something about travel and writing, doing my best to make it sound technically impressive. Throughout my last few days in Zadar, I had a chance to chat with them whenever we caught each other in the dorm and we even rode the bus together back to the airport.
And so it was that I found myself on a train to Oxford two weeks after returning from Croatia. One of the students, an English guy named Harry, is on the rowing team for his college and invited me up to see a big event called the Summer VIIIs, or Eights Week as it's also referred to. He told me how it involves 4 days of races, 158 boats, and nearly 1400 rowers, who are all aiming for the title of "Head of the River." Reads something like a MasterCard commercial, doesn't it?
But what I was most looking forward to was this idea of "bump races," by which teams try to "bump" into the boat in front of them. I'd envisioned violent scenes reminiscent of some Viking-esque battling ram in action. It only took one race to realize I'd taken the term a little too literally. Oxford being Oxford and all, the "bumps" were more polite and figurative…as soon as one boat was within touching range of the one in front of it, the coxswain of the "bumped boat" raised his or her hand to concede as a kind of white-flag.
What was also soon apparent about the day, though, was how much the Oxford rowing scene is its own culture. The Oxford English Dictionary (appropriate, isn't it?) defines culture as "the ideas, customs, and social behaviour of a particular people or society." When I shared this idea with one of Harry's friends, another rower named Alex, he agreed. "Yes, and anyone not a part of a certain culture finds it strange." In the words of my three-year old second cousin Sydney: "I know that's right." But what exactly was it about this new "culture" I found so fascinating?
Picking up the lingo…
Talking about "bumping" wasn't the only weird phrase I got used to hearing during the day. There were others, like "klaxon," which can be a kind of loud car horn, but in rowing means the signal a marshal (umpire-like figure) gives to end a race. To "catch a crab" is, again, not literal—it means a rower doesn't remove his oar from the water in time. Think seven oars facing one direction and a single oar stuck going the other way. Apparently the force of this, which acts like a break, can sometimes be strong enough to eject the rower from the boat.
…learning the rules…
I soon realised it was one thing to understand the jargon, and another thing altogether to see it in action. The first race of the day that I witnessed was "klaxoned" when a marshall felt two bumped boats created a hazard and would get in the way of other rowers. Clearly, no one else agreed. The crowd was outraged, standing up from the ground, looking up and down the river yelling, "What marshal klaxoned?! Did you see who did it?" When they finally settled down, I looked at Harry, a bemused look on my face, and said, "So why should I be annoyed?" As people stormed past us, muttering under their breath about "trigger-happy klaxons," Harry explained the marshall had been overcautious and failed to see other boats had plenty of room to pass.
…and looking on at the lifestyle.
Like with any proper sports event—whether it's the Foxfields Races so popular every April in my university town of Charlottesville, Virginia, or the ever-so-posh Royal Ascot races that just ended and turned Waterloo station into a flurry of fascinators and swallowtail coats every morning—the day was hardly just about the rowing. Stalls set up in front of a long row of boathouses sold cups of fruity Pimm's, strawberries and cream, and cakes. Former and current students reunited, wearing sundresses and boating blazers. And at one point, an older alumnus of Harry's college offered us cups of tea and little cucumber sandwiches from a table she'd set up in the grass. As I stood by the river, sandwich in hand, shells of rowers racing past, I'd never felt quite so British.
And then the race was klaxoned, the crowd roared in anger, and I, looking on in my blissful ignorance, realised I still have a ways to go…