"just in case": battening down london's hatches.
"It is ordinary people's lives who have been harmed by these events; the independent shopkeepers who have had their premises looted…We stand beside them with a clear message that our community will not stand for this."
–Chuka Umunna MP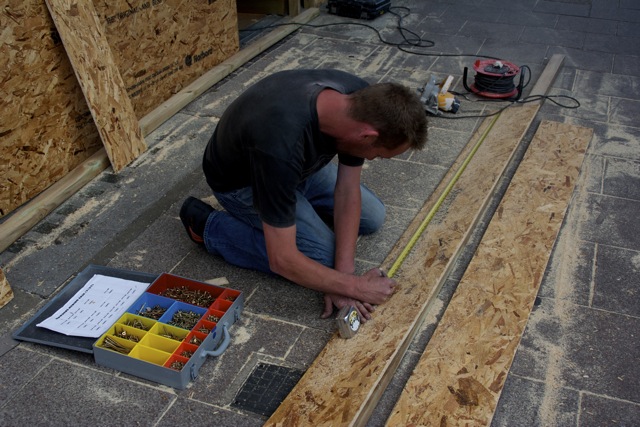 I grew up on the East Coast of the States–a region notorious for its hurricane seasons. As a child, summers are spent waiting for the storms, as the weathermen work their way through the alphabet, naming each successive new threat. I can remember Bonnie from 1998; Floyd from 1999 and the massive flooding he brought to Franklin, Virginia; and Isabel from 2003, whose 80mph winds gave us more than one day off from school.
But what I also remember are the preparations. Hurricanes don't often come unnoted–they begin as a tropical depression, usually floating somewhere in the Caribbean, working their way slowly up to a tropical storm and then, if they stay strong, to a full-fledged hurricane. You can track their progress on the nightly news, and usually know just when they're about to hit. This gives shopkeepers and homeowners time to stock up on plywood, or maybe cross long strips of tape across their windows into an X.
The London Riots were no hurricane.
Although some stores were alerted yesterday and began to close up early before the worst night of rioting swung into full force, many had no idea what was coming. Certainly not a hairdresser's in Victoria. Or a baby clothing shop in Ealing. Or a two-Michelin-star restaurant in Notting Hill. As London's angry youth descended upon the streets, so many places were left open, left with nothing to prevent the battering rams of chairs and bats from smashing through their storefront windows.
And so as I left work early today–"just in case," we were urged in an all-staff email–what was most noticeably different in my own corner of London was one thing: plywood. A friend and I passed one pub near Southwark station that had already covered its windows and doors with long wooden sheets, and then another that was in the process of doing so as we walked by.
Even when I reached my home station, tucked safely away in London's leafy suburbs, I was surprised to see a couple of shops also boarding up their windows–and to think I'd assured my family and friends I was far from any of last night's flashpoints.
"Do you think they'll hit here?" I asked one of the workers.
"Allegedly." I didn't know whether to believe him or not.
I chatted with them for a while, asking if they'd been busy all day, watching them quickly take measurements and piece together wooden frames. Beneath their jokes as I took photos–"That's not my good side, you know" and "I hope we're getting paid for these"–was a quiet determination to get the job done…just in case. All I could think of was how the riots were a hurricane in reverse–striking hard and fast, only giving London time to prepare after the worst had taken place.
So if there's one company that's doing well right now–and it's certainly not the UK government, London Met police, or any of the capital's electronics stores–it's plywood companies.
Because sometimes, we all need to batten down the hatches.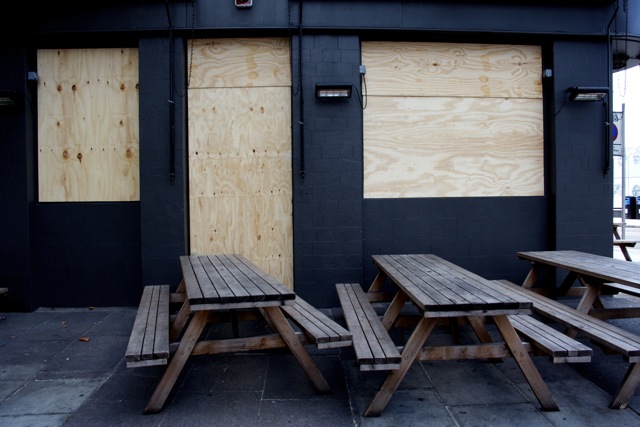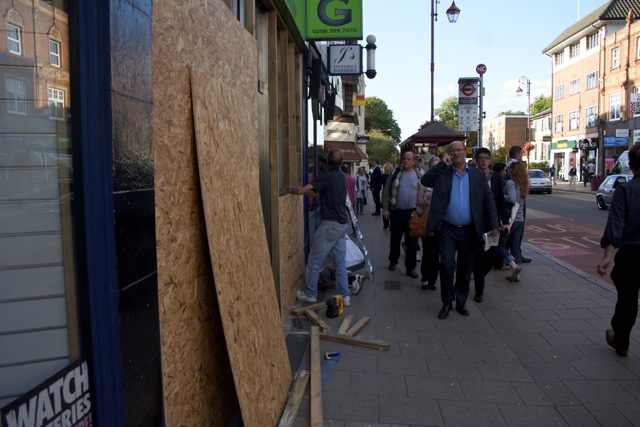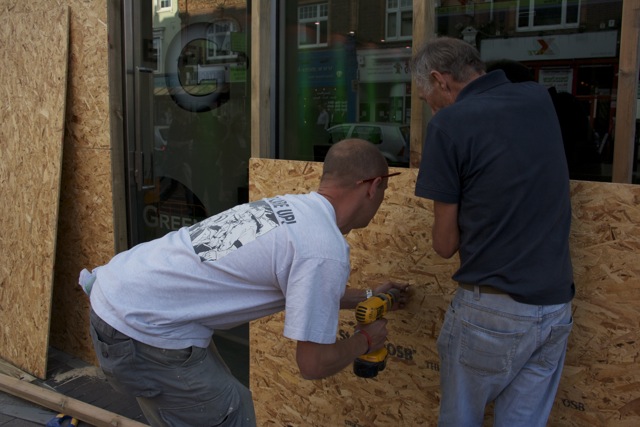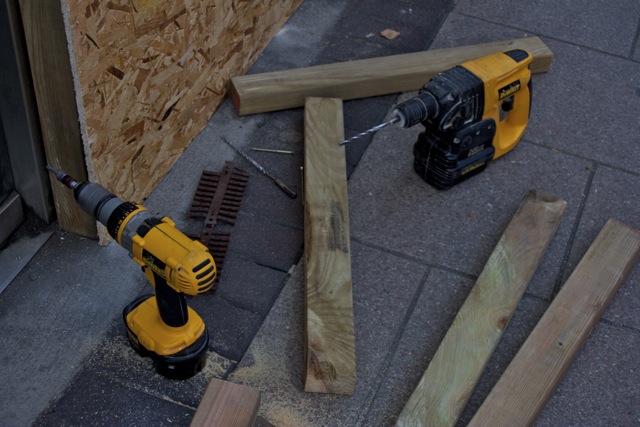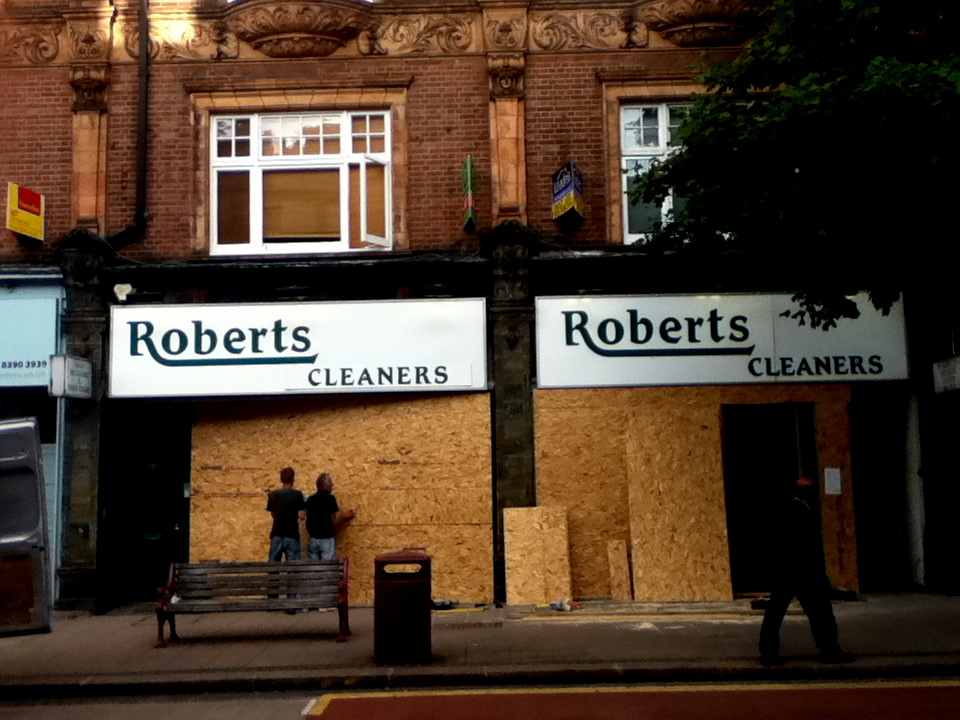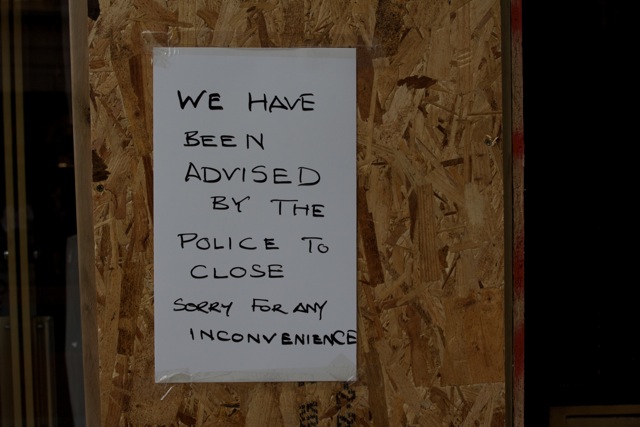 Want to know more about the London Riots?
Check out these great sources:
What are your thoughts on the riots? I'd love to hear them!