here to be here: mumbai in pictures.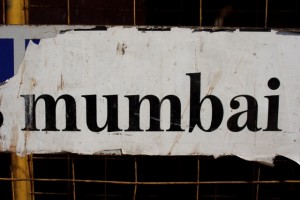 "That's how we keep this crazy place together – with the heart…. India is the heart. It's the heart that keeps us together. There's no place with people, like my people, Lin. There's no heart like the Indian heart."
–Gregory David Roberts, Shantaram
Last week in Fort Kochi, I picked up Peter Matthiessen's The Snow Leopard from a shelf in my hotel. It's one of those travel books I vaguely remember being recommended once, as something that one should read, so I tucked it into my bag.
Much like reading Brideshead Revisited on the beach in Puri, at first there didn't seem to be any obvious connection between Peter's journey through remote Nepali mountains and my own arrival in the big city of Mumbai on Friday. But as so often happens with books, the two journeys–the author's and your own–begin to complement each other.
On my last night in Goa, I read:
"I feel gratitude for being here, for being, rather, for there is no need to hie oneself to the snow mountains in order to feel free. I am not here to seek the "crazy wisdom"; if I am, I shall never find it. I am here to be here, like these rocks and sky and show, like this hail that is falling down out of the sun."
That phrase–I am here to be here–instantly struck me, and I kept repeating it once I reached Mumbai. "I am here in Bombay to be here" became my excuse not to follow a checklist of sights, but simply to be in the city, whatever that might mean.
At times, it meant learning my way around Colaba, riding the harbour ferry at sunset, and seeing my first Bollywood film. It meant connecting with my lovely friend Bonsy from Kingston, as we caught up over cold coffee and tiramisu at Moshe's Cafe. At other times it meant returning to the same restaurant twice because the pav bhaji was that good, or sitting in the lobby of the Taj in my torn flip-flops and pretending I totally fit in–totally, right?–and beginning to feel the soul of Bombay of which Gregory David Roberts writes in his much-beloved Shantaram, the life that pulses beneath the streets like a heart.
So rather than focus on a particular story for this first post on Mumbai, I thought I'd put together a photo essay instead, capturing some of my favorite shots from the weekend–the kind of images we hold onto as we pass through a city, and it passes through us.