the reel camino: what does it mean to be a pilgrim?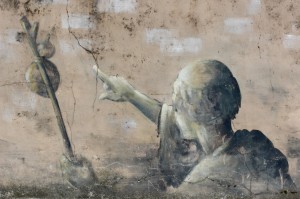 "When in doubt, just take the next small step."
 – Paulo Coehlo, The Pilgrimage
This past weekend, my parents had the slightly insane idea of driving to Atlanta to see my brother's soccer team play in their regional championship, only to turn around and head back to Virginia the very next day.
Oh, the things we do for family, right?
It's amazing how much you can get done in twenty hours in a car. By which I obviously mean lots and lots of sleep, with your legs and back curled into positions that only a contortionist would find comfortable.
But in the few hours I spent conscious (if not comfortable), I managed to finish something that's been in the back of my mind for a while: a video about my time on the Camino de Santiago pilgrimage trail.
In the two weeks I spent along the Way, one of my fellow pilgrims – lovely, witty John from Perth, Australia – had a habit of asking me, "But what are you going to do with all this?" referring to the notes, photos and video clips I was constantly amassing.
"I don't know," was my usual answer, but I had a hunch something would come of it all.
This video isn't much, but it's a start. I decided to explore one of the questions that was always on my mind – both during the Camino and in the months since I reached Santiago. As I asked here a few weeks ago:
What does it mean to be a pilgrim?
Furthermore, I hope it gives you a sense of what life is like along the Way. Words and photos only tell so much – I love that this video captures sounds, too: the crunch of our boots on the path, the ever-present din of cowbells, and the cheers and claps that often erupt in front of the cathedral in Santiago.
Enjoy!
By the way, just in case you're wondering, my brother's team won. So the weekend was a double-victory, in a way…
want more camino de santiago video?
Check out this video made by my friend and Camino-partner-in-crime, Erin Ridley.
And then, of course, there's The Way, the feature film written and directed by Emilio Estevez that stars his father, Martin Sheen.
what do you think it means to be a pilgrim?