consider the pigeon: notes on taking flight.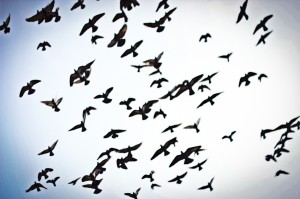 "'The Guide says there is an art to flying,' said Ford, 'or rather a knack. The knack lies in learning how to throw yourself at the ground and miss.'"
– Douglas Adams, Life, the Universe and Everything
At 12:15pm in the courtyard of the Shree Jain Temple in Cochin, India, a bell is rung.
I don't see where the bell itself is hung or who struck the clapper, but what I do see is what happens as soon as metal hits metal: as the melodic sound rises towards the noonday sun, so do the hundreds – if not thousands – of pigeons who call this temple home.
The sight of the birds taking flight would be striking enough on its own, but it's what they do next that baffles me. As though directed by an invisible conductor wielding an invisible baton, they begin to circle one of the temple's towers. All of them, in unison, repeatedly.
For the ornithophobic, it's a scene straight from The Birds. For me, thankfully, it's just plain mesmerizing.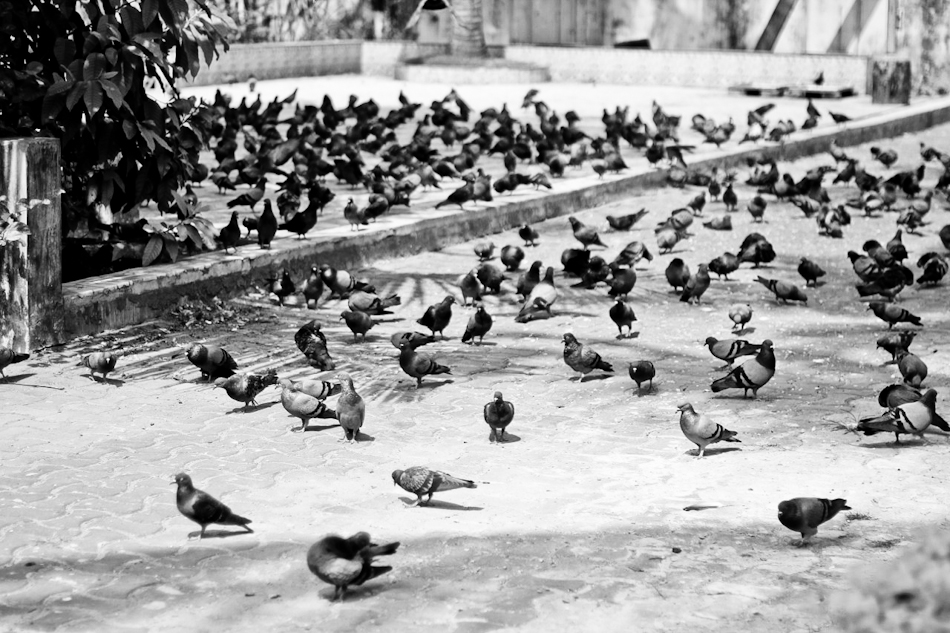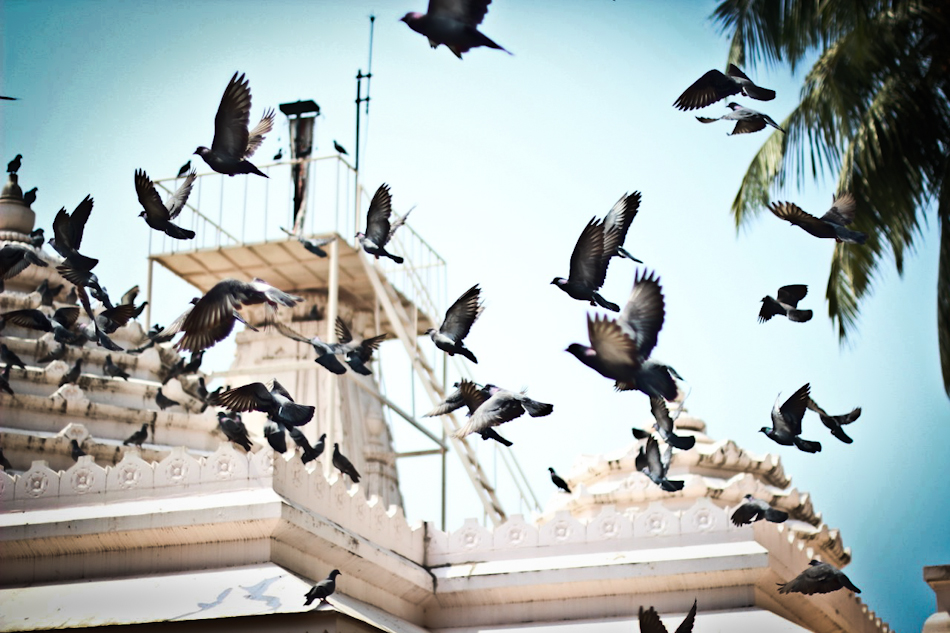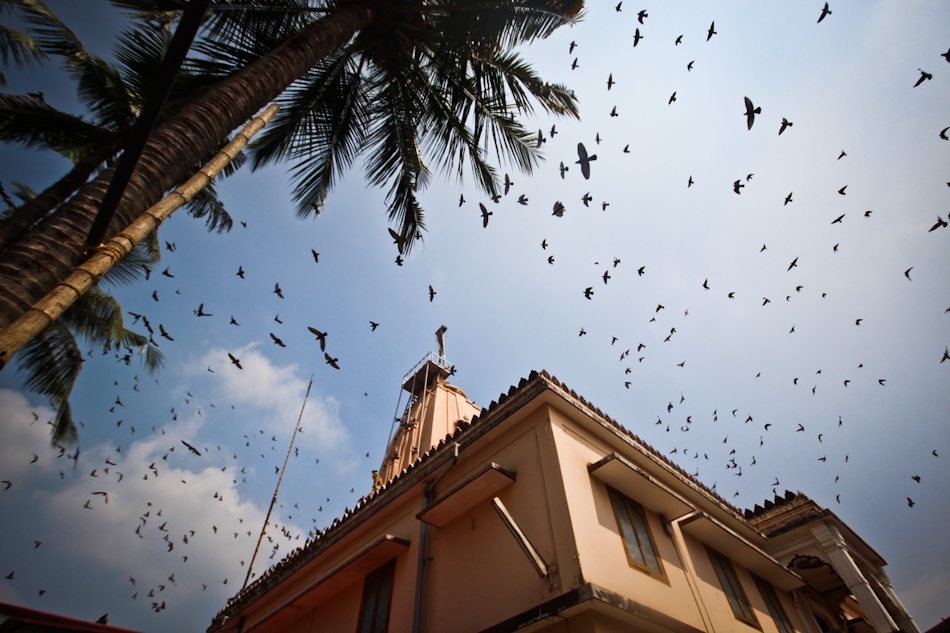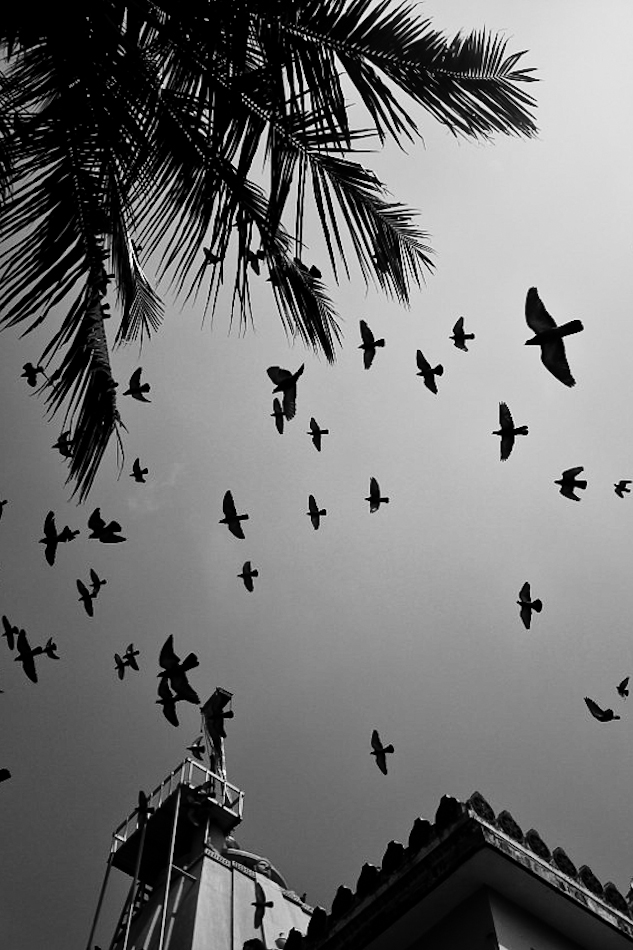 In one giant loop of beating wings and sweeping feathers, they circle the tower once, twice, six times, appearing and disappearing from view, before settling down again on the stone ground of the courtyard.
Five minutes later, a man appears with a large silver bowl in hand, calling out what sounds like chalo – Hindi for 'let's go.' Another man follows him with two bags of birdseed. They say a prayer and begin distributing the seed to those who've come to the feeding.
Some stand with their hands cupped and full of seeds, waiting for the birds to come to them – which they certainly do – but I get rid of mine quickly with a swift toss or two, so that I'm free again to take pictures.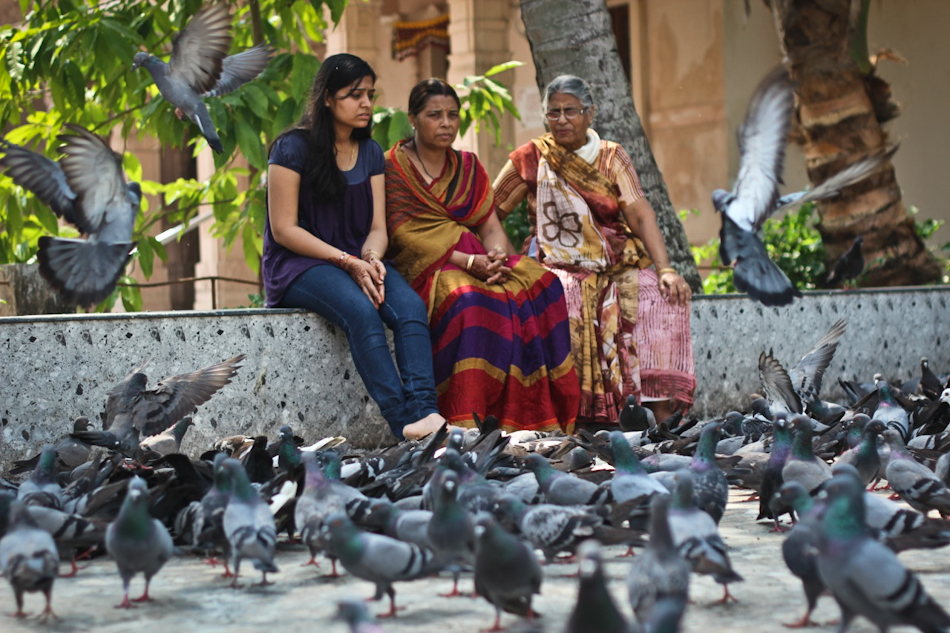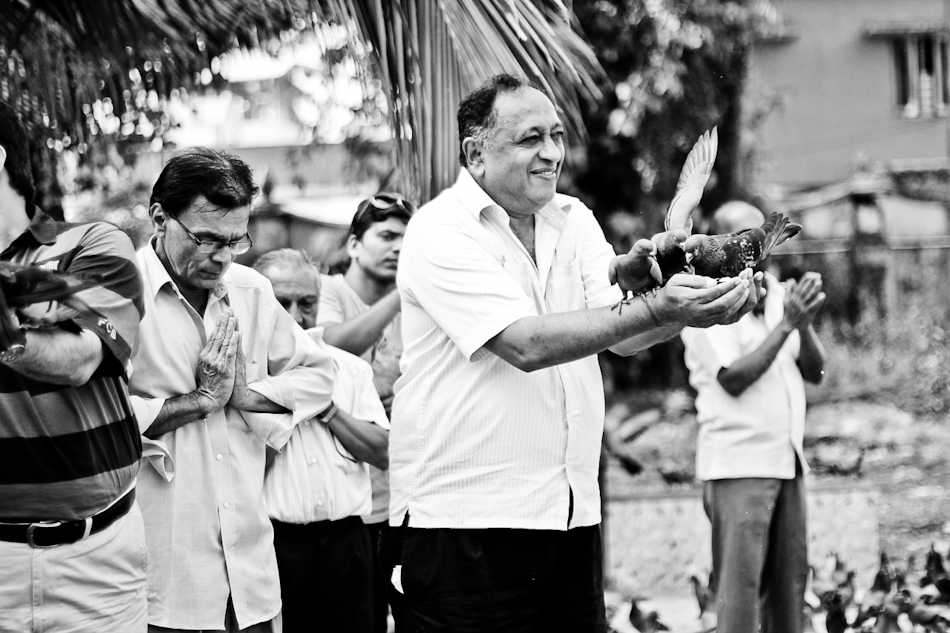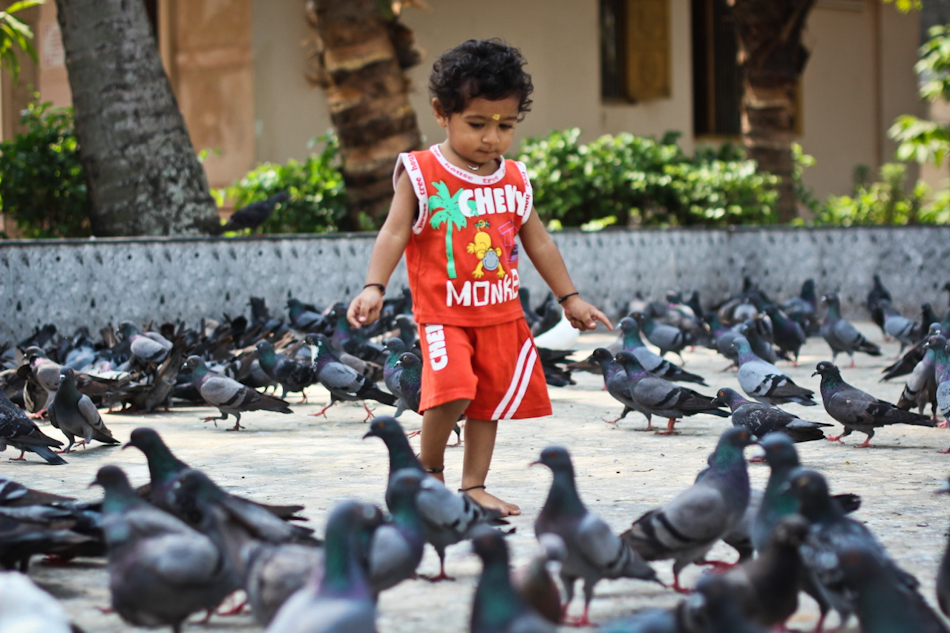 The more I watch them, though, the more I'm confused.
Pigeons aren't supposed to be beautiful, I tell myself. They're not supposed to inspire awe.
And yet I see it everywhere I look – in the outline of their wings, in the turquoise iridescence of their neck feathers, in the wind brushing my face which isn't wind at all but the result of a hundred birds moving the air at the same time.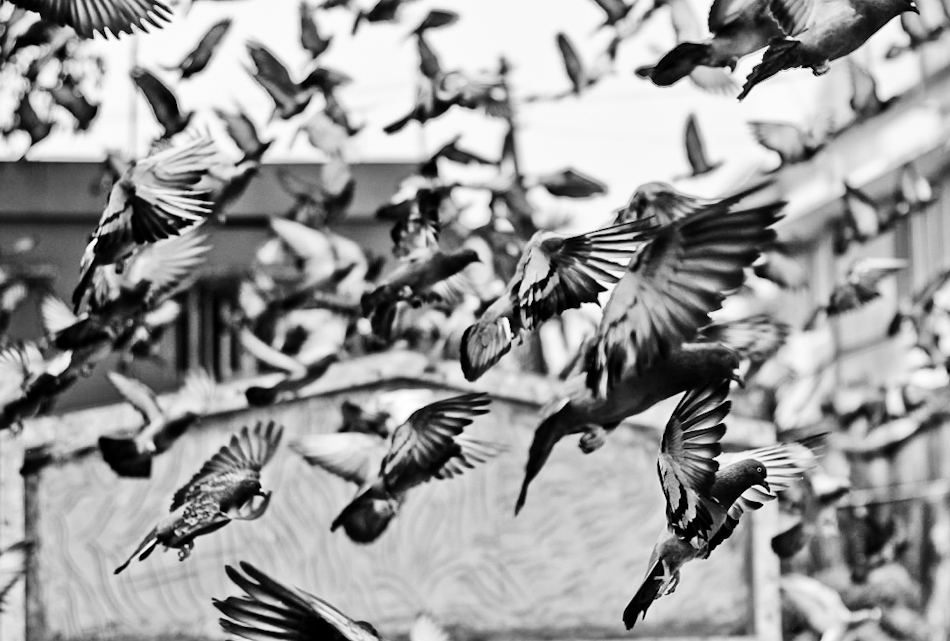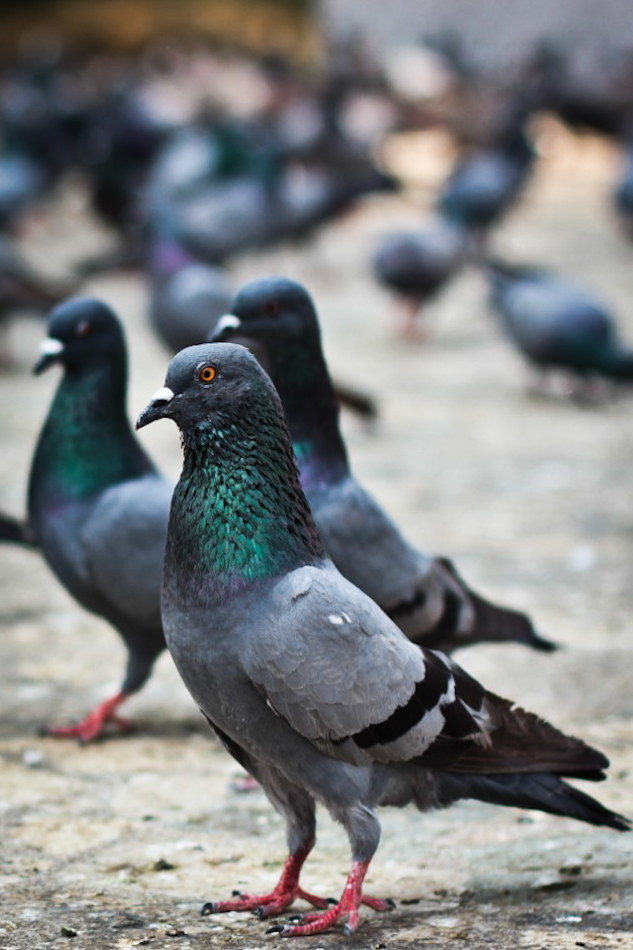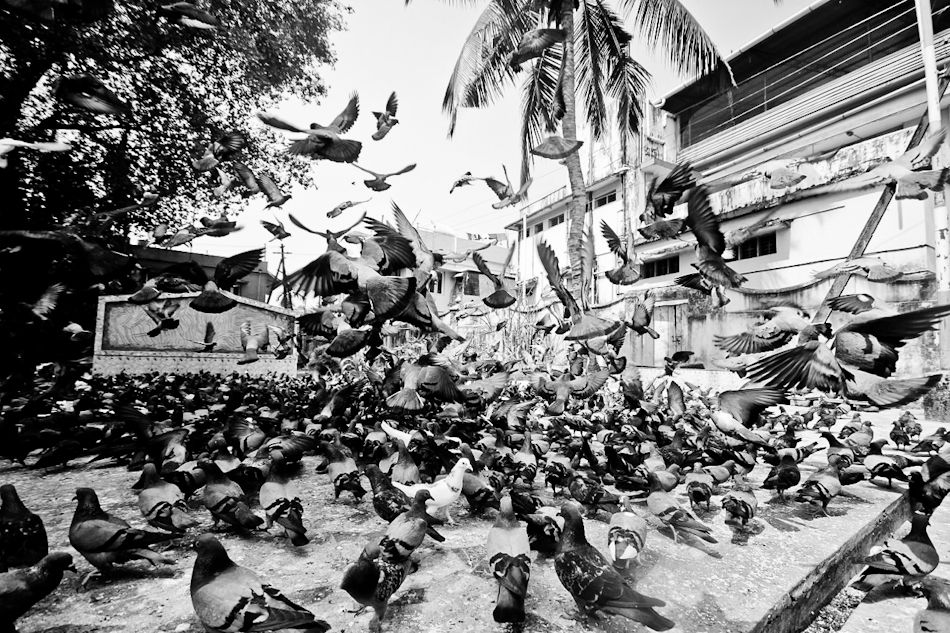 I've spent the last ten days in Cochin, working on the finish line of the January Rickshaw Run, but also reveling in the sense of home I feel here. In addition to doing my own little loop between my three favorite restaurants, I've done my laundry and caught up on emails and had buttons replaced on a dress from a little 1-hour tailoring shop.
Because that's totally what you do when you're at home, right?
Tomorrow I board a train for Goa, and two days later, another one for Mumbai, commencing two weeks of travel around the country that'll have me clocking some 80 hours on its rails. No doubt any feeling of home I've found in Cochin will soon be a distant memory (and hopefully the same will be said of the city's fierce mosquitos and dizzying heat).
But it's as a thousand birds circle the tower of a temple in southern India that I realize – that's what wings are for. They're not meant to rest against a bird's body forever, they're meant to be extended and stretch forwards and back. They're meant to fly.
And so are we, my friends. So are we. Chalo.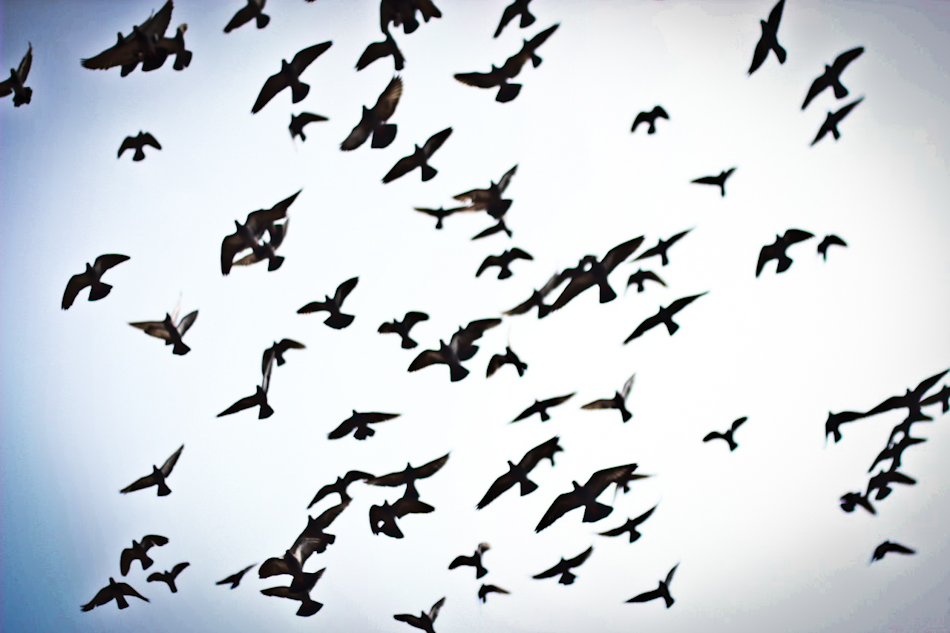 taking flight to Cochin pretty soon? here's how to catch the pigeon feeding yourself:
The pigeon feeding takes place every day at 12:15pm.
The Shree Cochin Jain Temple is located on Gujarati Road, Cochin, 682 002.
For more information, visit their website, http://www.jaintemplecochin.org, or contact them on (+91) 0484 222 4802 or by email at cochinjainderasar@gmail.com.