a place to hang my beach towel: at home in goa.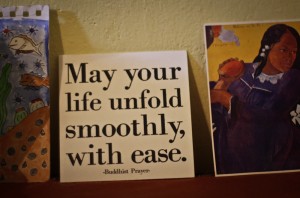 "'Do you really like London?' I asked.
'I don't,' she said…'but London's as good a place as any to hang your hat.'"
– Bruce Chatwin, Anatomy of Restlessness
The plan had been Pondicherry.
It's a moderately sized city over on India's east coast, and is what's called a Union Territory. Up until 1954, it was actually ruled by the French, and if you try hard enough, you can still feel a bit of a colonial vibe leftover.
The streets, which all start with Rue de la, are unusually wide for India – furthermore, they're actually safe to cross without fearing for your life. There are cafés and patisseries and a delightful promenade by the sea.
I visited Pondicherry the first time I was in India and loved it so much in fact, I had to leave – here's my "it's not you, it's me" break-up note with Pondy, in case you missed it.
Between all my running around with the Adventurists on their Rickshaw Runs, project visits with the NGO I do work for, Jeevika Trust, and other story-finding trips such as my three weeks in Thailand in December, you might say I haven't really stopped moving since arriving in India last August.
"So where are you this week?" my friend Erin asked me in January. "We need to put a GPS chip in you."
It wouldn't be a bad idea, actually.
But then suddenly, miraculously, I found myself with five weeks and nowhere to be. I know – I didn't believe it at first either. Where would I go? What would I do? The possibilities were endless.
I could go to Malaysia! I could go to Japan! I could go to Kashmir!
Here's the thing, though: I didn't want to go anywhere. I wanted to pick a spot, curl up in it, and not move again until the five weeks were up. And lest you think I would spend my time in such a spot idly, fear not: I wanted to write. I wanted to rescue my book from the backburner of my mind – where it has been covered in cobwebs and dust for far too long now – and actually start writing it again.
It was time to find a spot that would allow me to do so – and, I decided at first, Pondicherry was it.
* * *
But then I went to Goa.
I had planned to pass through the balmy, beachy state anyways after leaving the finish line of the January Rickshaw Run, and when I told my friend Hannah this – who runs a beautiful blog called Further Bound, and has been living in south Goa for the last six months – she offered me a place to crash for two nights.
The bus from Margao dropped me at the end of Hannah's street, and it was about a five-minute walk to get to the little house she has been renting. And somewhere in those five minutes, as my flip-flops slapped against the narrow road, as coconut trees swayed above me and the quiet waves of Colomb Bay curled gently towards the rock-lined shore, it occurred to me, in a rather simple fashion, that I had been wrong about Pondicherry.
Very wrong.
This was it.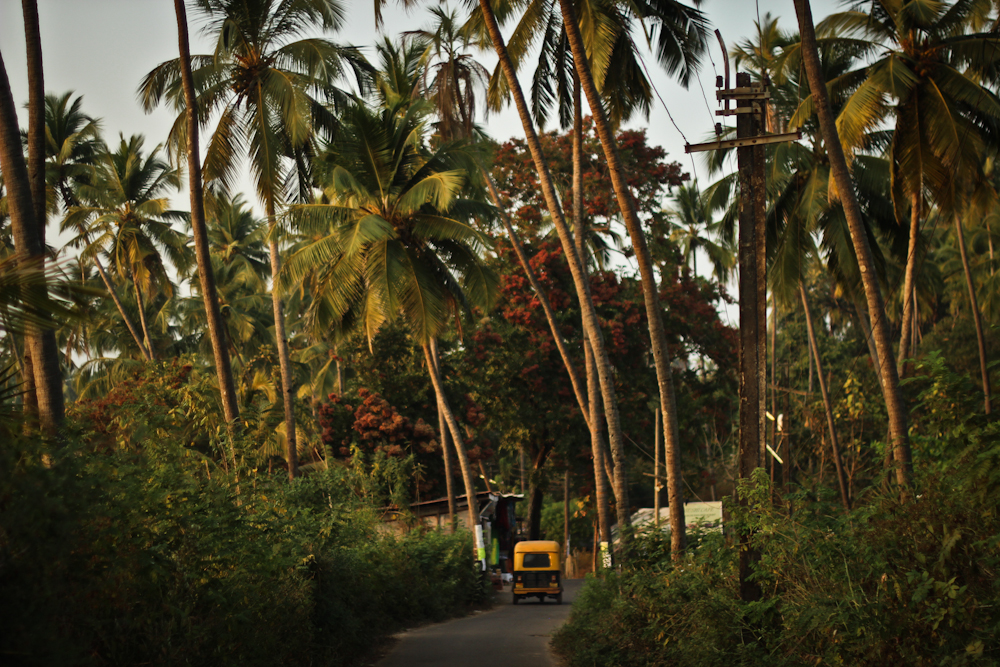 I didn't say anything at first. I spent the rest of the day hanging out with Hannah and her friends Monica and Andreas, who were serendipitously visiting at the same time, but as we swam at the end of Palolem Beach, had a pre-dinner and then dinner, and walked home under a spectacularly star-festooned sky, I kept taking it all in, trying to picture myself here.
And the picture in my head said YES.
It was only on the way to Galgibaga Beach the next morning that I asked the fatal question.
"Hannah, are there are any more houses for rent?"
* * *
And so it was that I returned to Colomb Bay two weeks later – after an epic jaunt around India that had me clocking some 100 hours on trains – and found myself at Hannah's house again. After breakfast at one of our favorite restaurants in town, we picked up my backpack, my rucksack, and a third bag full of snacks and fruit from friends in Chennai, and set out down the street.
"Let's take you home," Hannah said, and I swear to you, I could've cried. And after an hour of unpacking and setting out what few knick-knacks I'd brought with me, I did cry, just a little, and they were all tears of big, huge, inexpressible joy.
Home. So what if it's only for five weeks? For the next month, this little baby – in all her one bedroom, one bathroom and tiny kitchen glory – is home, and I am giddy in love with her. And now I can't wait to show her off to you…after you, my friends: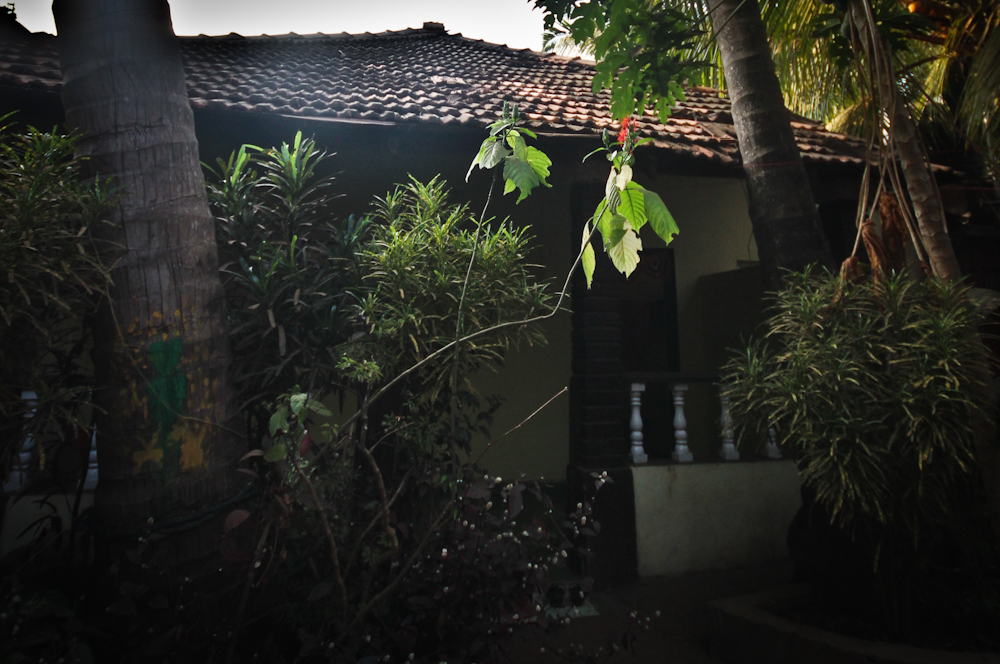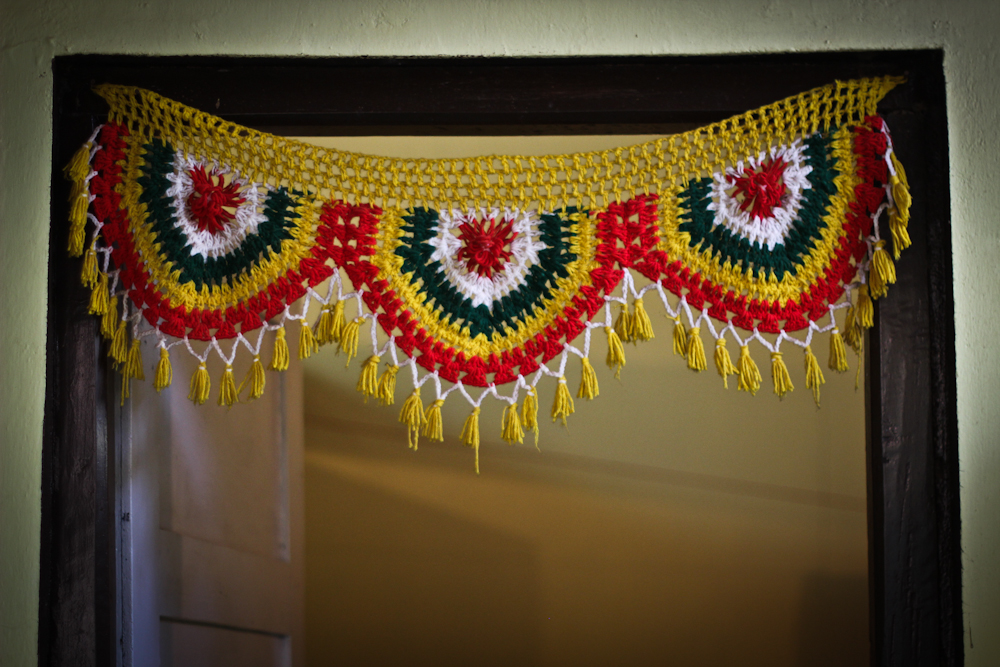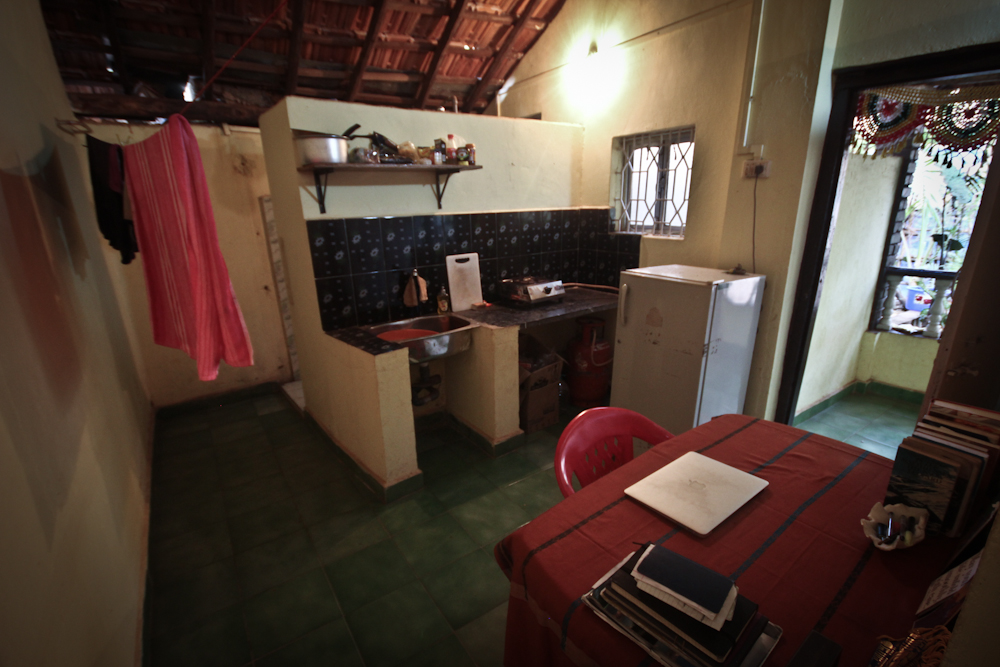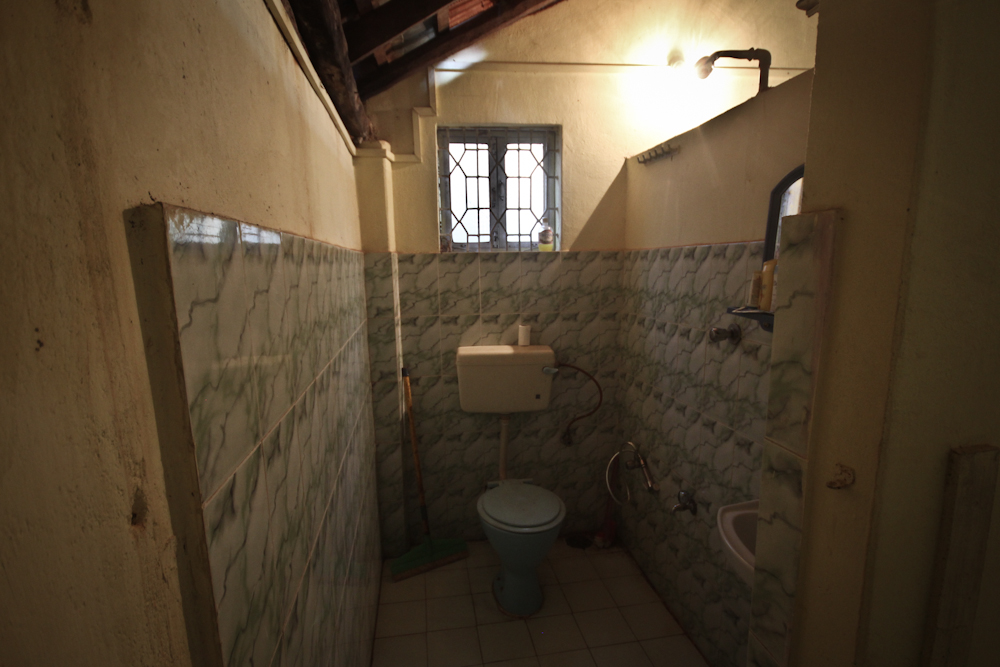 I love the compactness of this house, the way it's just enough for me. I love that it isn't showy, that the place to store my clothes is just a few boards nailed together to form shelves; that I get to hang my beach towel to dry on a single line strung across the kitchen.
I love that when I asked my landlady Asmita if she had anything to cook with, she said, "A few things," and brought me: one pot, one pan, one plate, one knife, one spoon, one glass, one coffee mug, one cutting board.
And you know what? It's enough.
I get by, even if it means doing the dishes after every meal. Which, let's be honest, is one way to ensure you never have dirty dishes in the sink for too long. I love the one burner, the way I have to cook my pasta first, take it off, put the pan on to sauté my vegetables, and then throw the pasta back in to heat it all up together.
I can't guarantee I could keep up such a system forever, but for now, it's enough.
I love popping into the nearby town of Chaudi to buy groceries, how they all fit into a single box, and how, when I get home, they all fit on a single wooden shelf above the sink.
You guessed it: it's enough.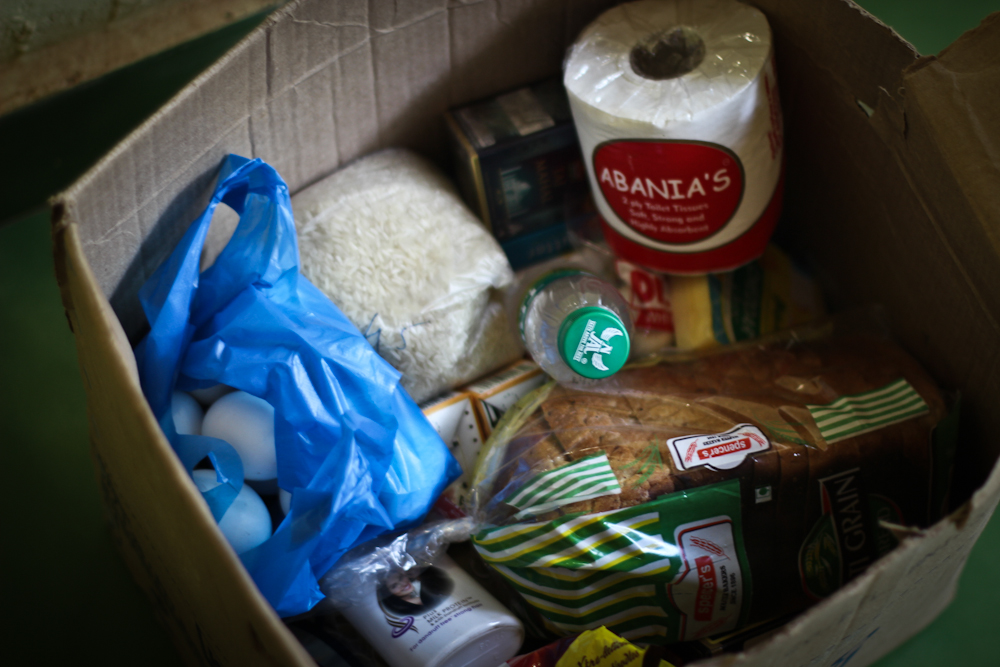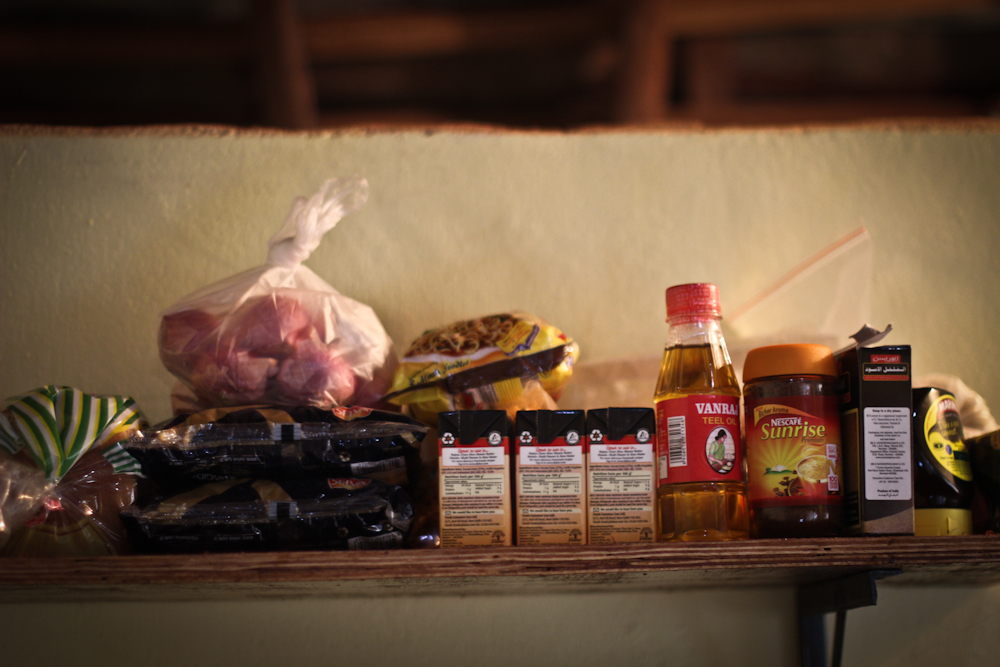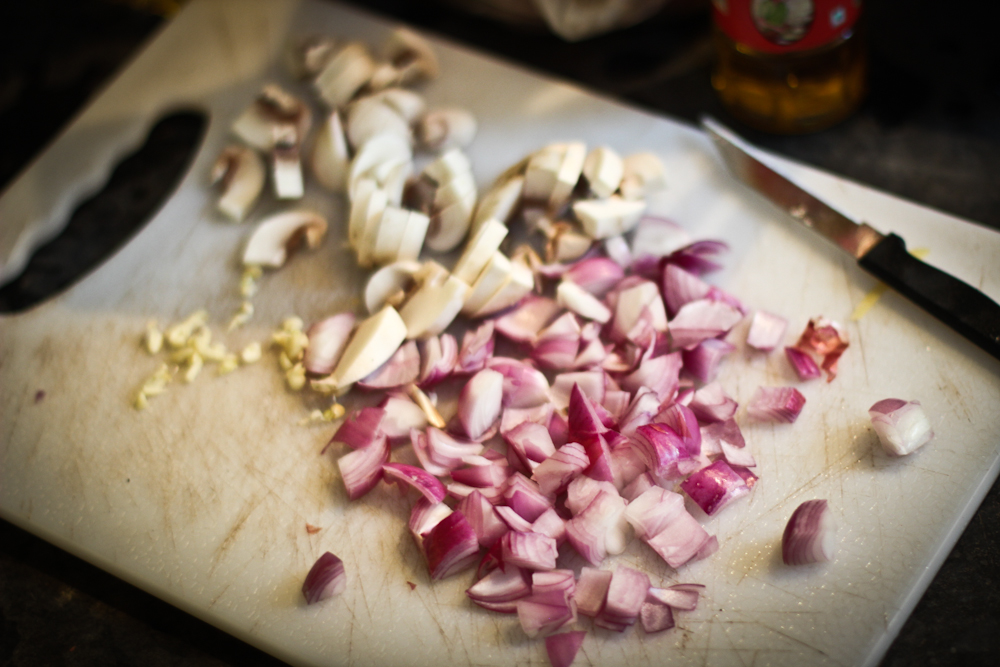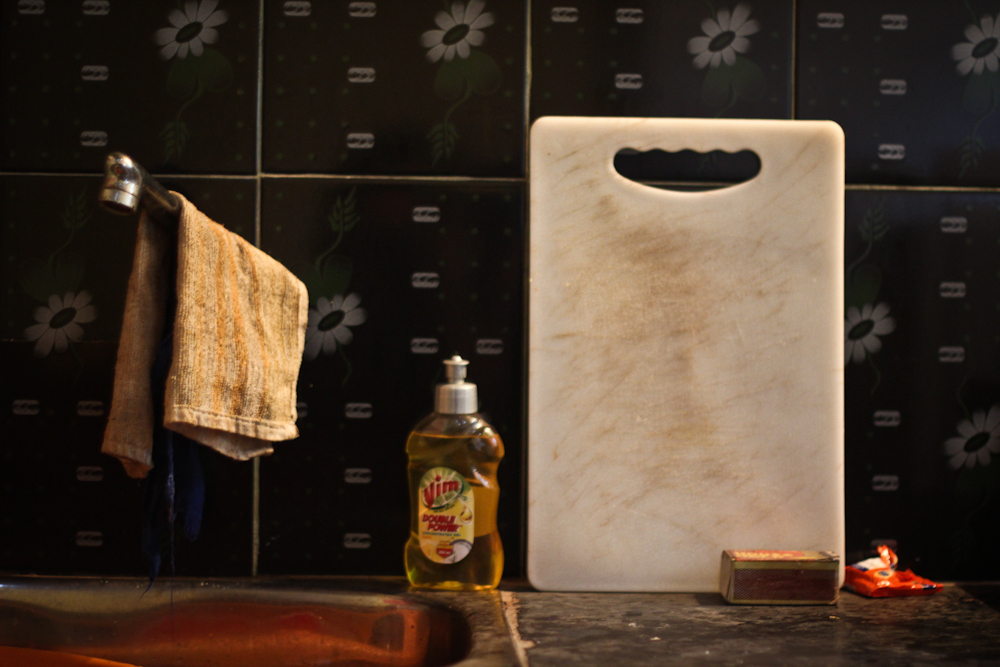 I love the papaya tree that stands guard outside my door, I love the red flower growing beside it that I don't know the name for, and I love that when I sit at my desk some mornings and hear a rustle outside, that this dude is right there in my front garden having his own breakfast, too.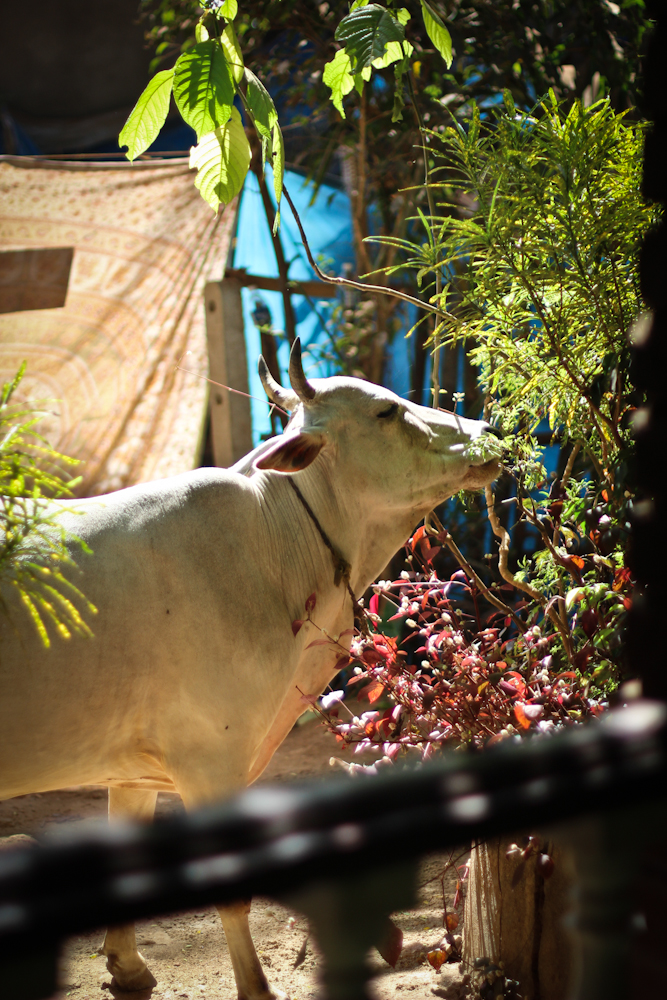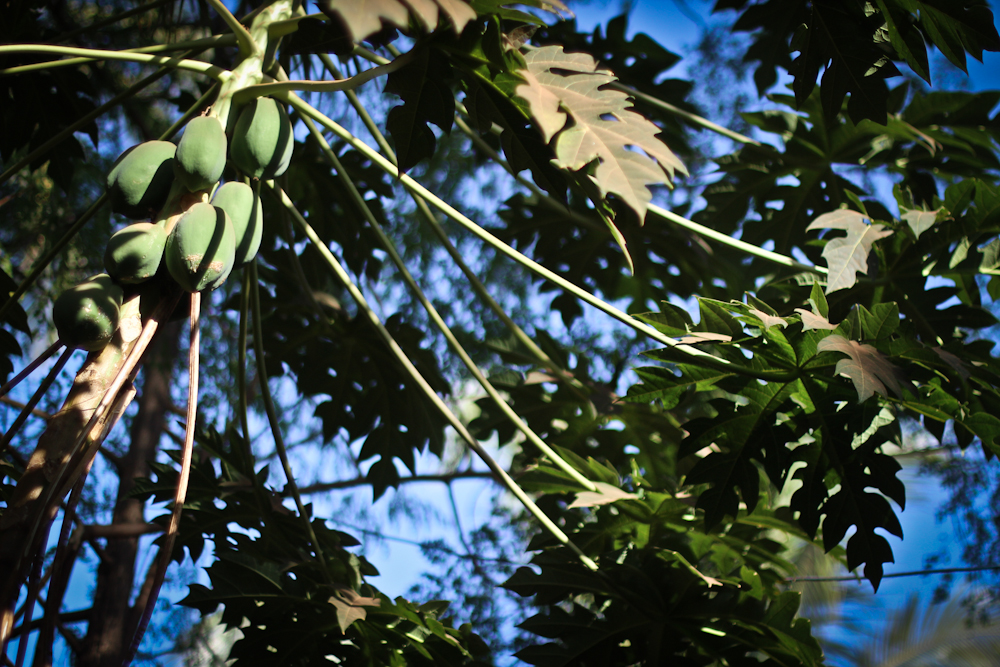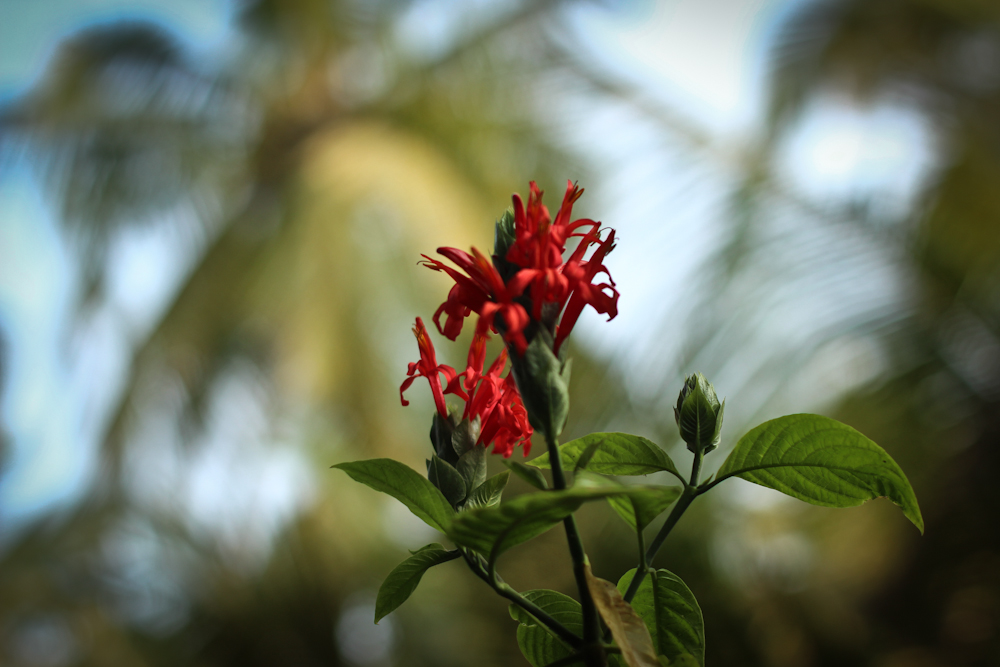 I love that I live within walking distance of views you see on calendars, of my friends Hannah and Jenny and Kim, and that on most nights, we meet up for sunset drinks at a local joint called Boom Shankar. Now if that isn't the best name for a bar ever, I don't know what is.
There's a sense of community here that I don't ever want to leave – a sense that maybe this is just a little bit closer to how life is meant to be.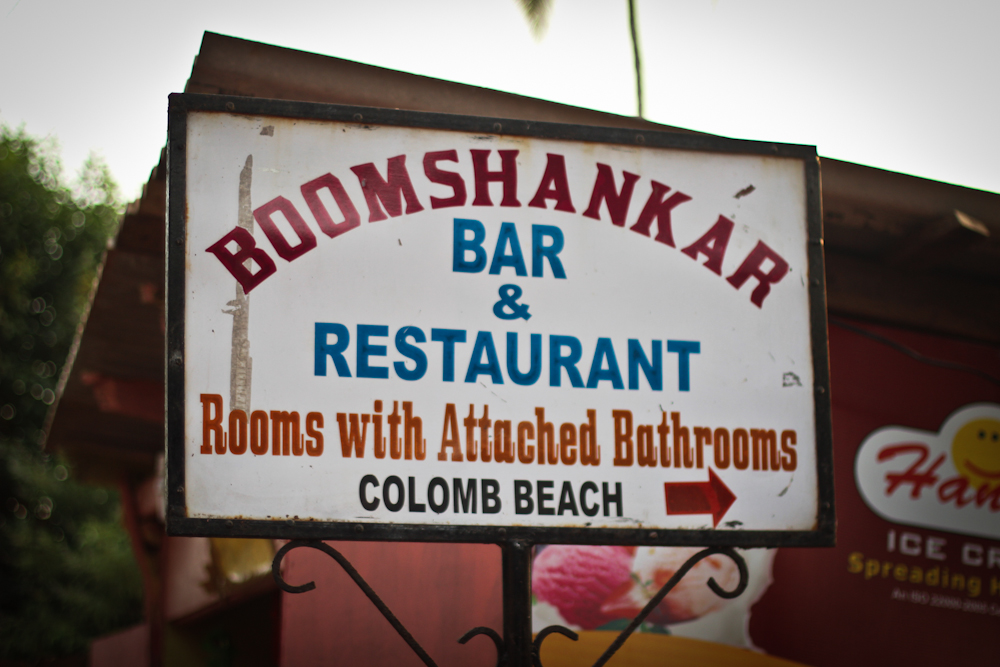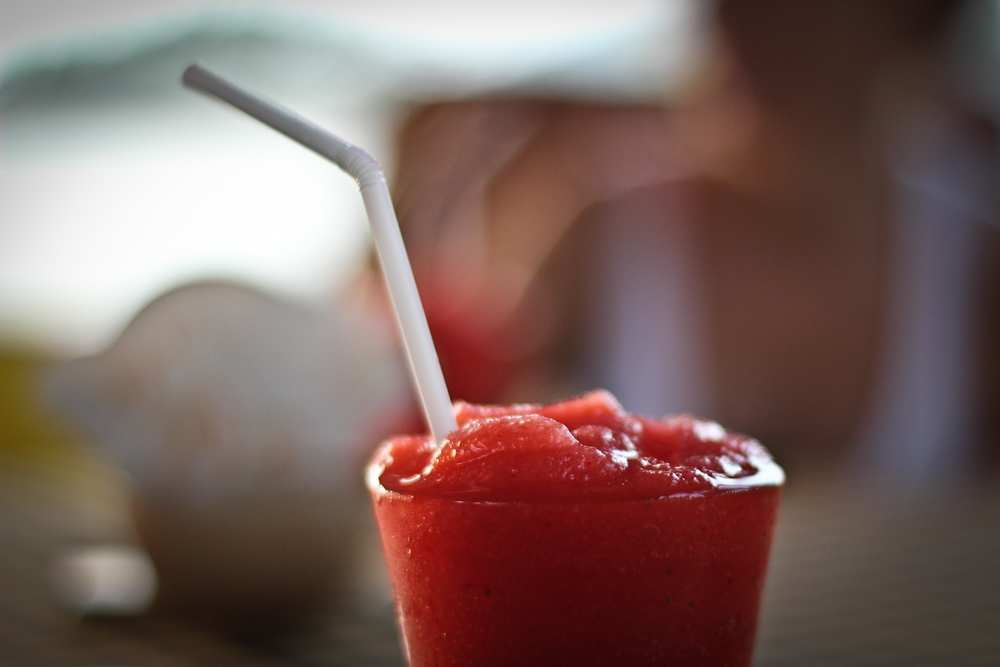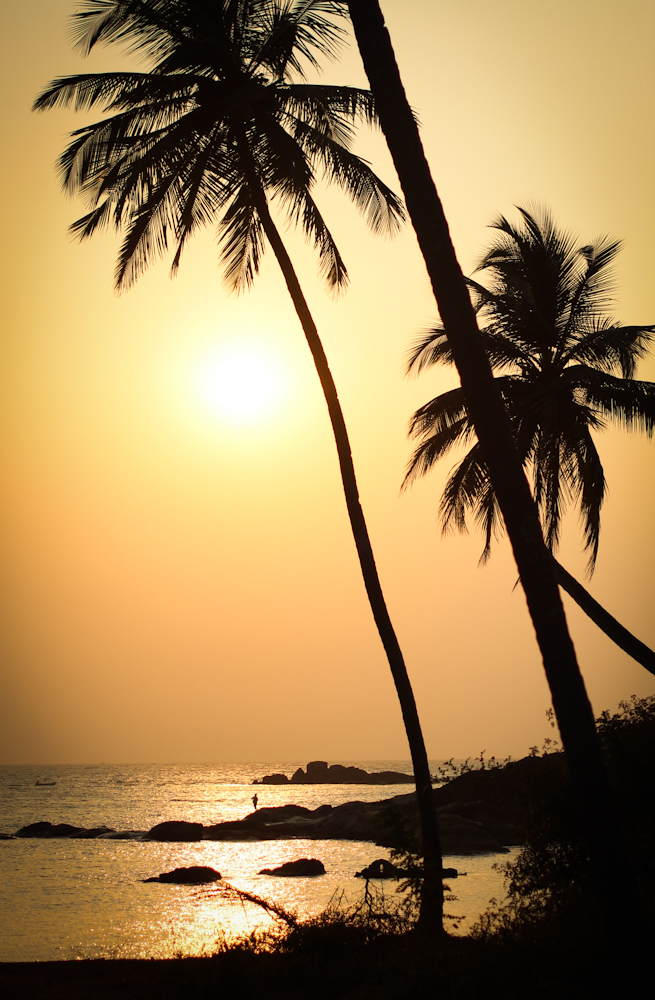 But remember what I was saying about my book? About actually, you know, writing it?
Well I am, slowly, doing just that, wading through a sea of notebooks and photos and figuring the damn thing out. It feels good to no longer just be talking about it, but to actually be doing it, putting words to the page – even if I just rip them right up again the next morning.
So as much as there is to love about this place (and as you might've picked up on, there's a lot), what has captured my heart the most about my temporary home is simply getting to sit down here every morning: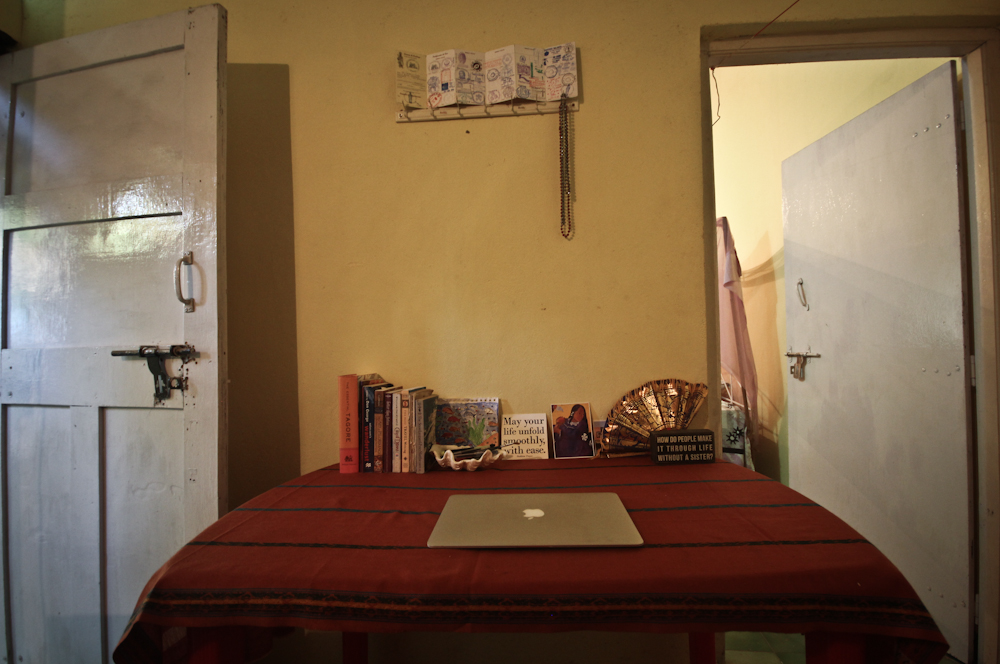 Alright, who am I kidding? This is what it actually looks like 99% of the time: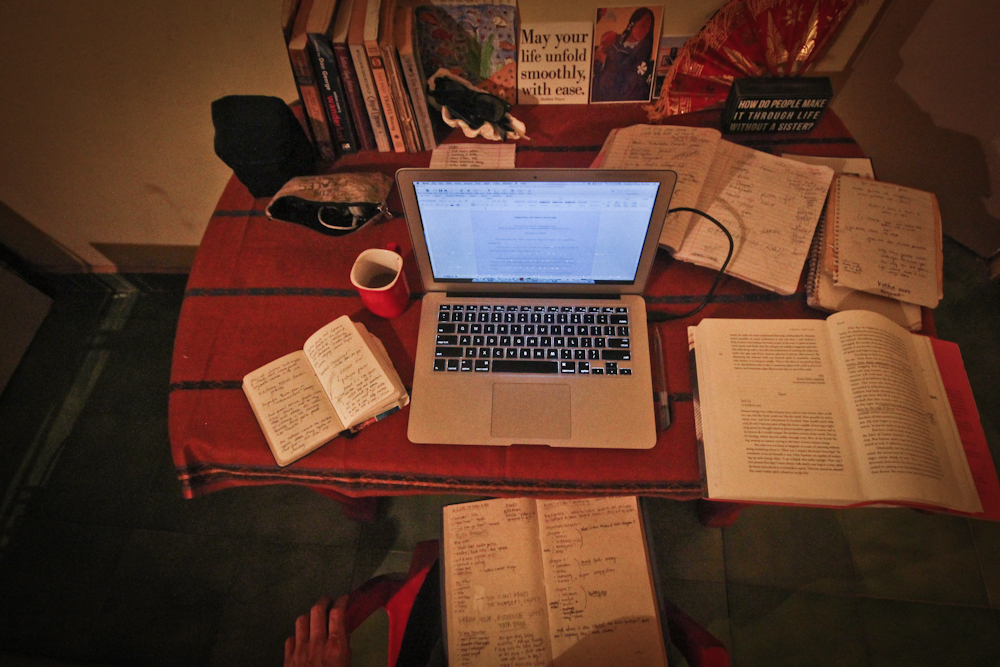 There's a place for my books, and for two small but significant souvenirs: a shell I found on Made's secret beach on Nusa Penida, and a fan I was given during a dance lesson a couple days later on the same island.
As my main goal while I'm here is to write the section of my book about Nusa Penida, these two objects sit on either side of my laptop, reminding me of the work I'm here to do.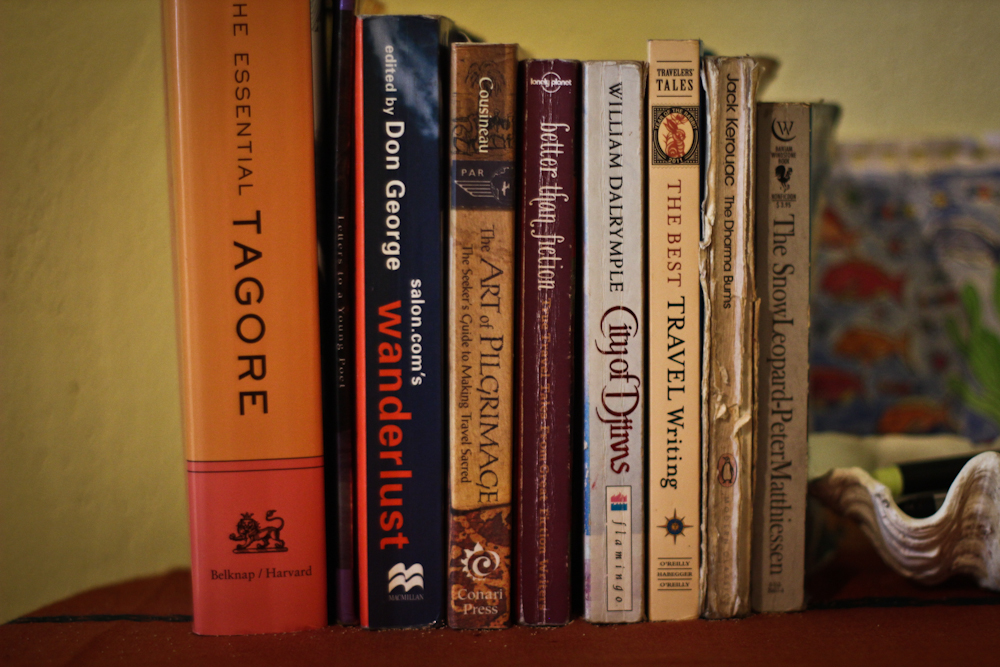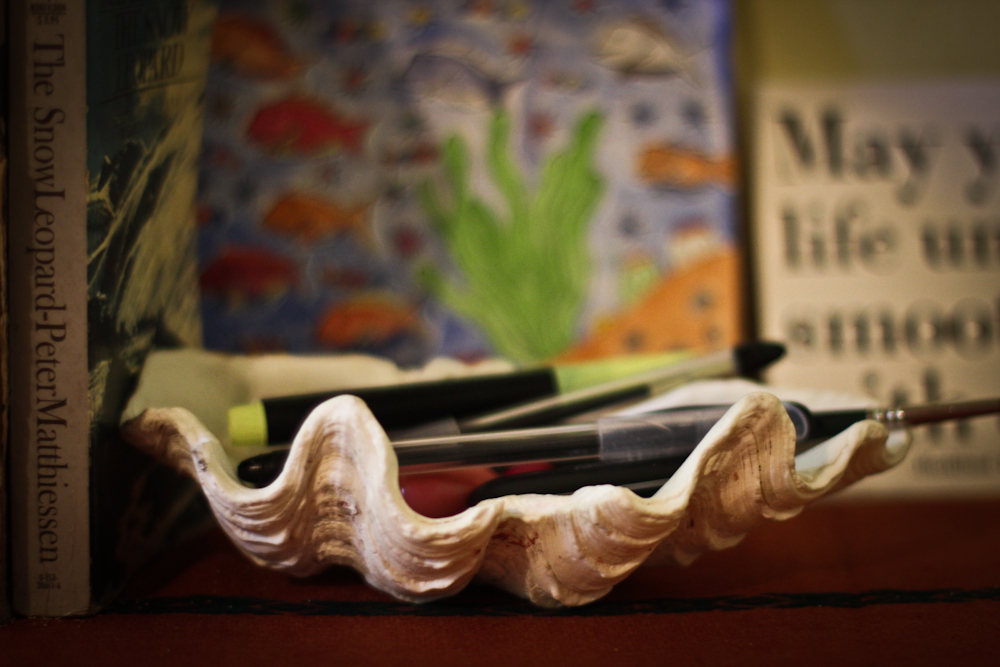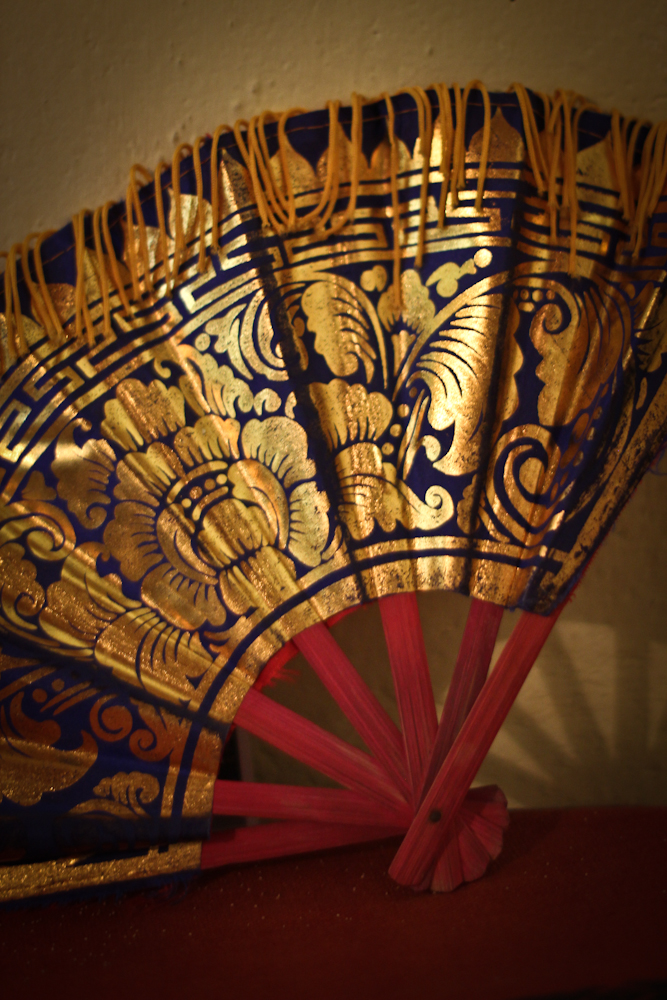 Because in the end, that is what I'm most grateful for about these next five weeks. As much as I love the house itself – and the papaya tree and my one mug and the enough-ness of it all… – what I love even more is the work it enables me to do.
"The places you work well in are the places you love the most."
– Bruce Chatwin