Summer Sketches: Postcard from Shi Shi Beach.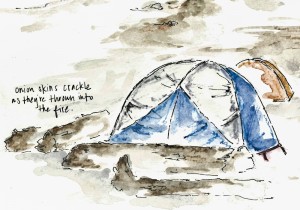 "I am here; and here is nowhere in particular." 
– William Golding
It's a gray Monday morning in Seattle, the kind of morning that only confirms every expectation I'd had of this city's infamous weather.
After grabbing a quick breakfast from District Market and dropping by a printing center to have some sketches scanned, I arrive at Seattle's oldest espresso bar – Caffe Allegro, whose brick walls and high ceilings seem designed to inspire. Latte ordered, I sit down and attempt to work.
It hits me every so often – on the first morning of the Rickshaw Run last September, in my little beach house in Goa – right about when I first start setting up shop: pulling out my laptop and hard drive, channeling some wifi, and turning an ordinary table into my desk for the day.
And what hits me again here is this: gratitude for this portable life, and for the chance to work on what I love no matter where I am in the world.
I'll be honest and confess to devoting a ridiculous amount of headspace to thoughts of the future – wondering where I'll end up and when, debating Brooklyn vs. Seattle vs. Saigon as potential home bases – but on days like today, I'm reminded that ultimately the location itself doesn't matter.
As my camera was sadly stolen in San Francisco last week, I can't share any photos of my new favorite haunt in Seattle – but what I can leave you with today is a quick sketch from Shi Shi Beach (pronounced Shy Shy), where I spent the weekend camping by the ocean and falling in love with its misty, tree-lined shores.
From San Francisco to Shi Shi to Seattle, this west coast summer is proving to be quite the adventure.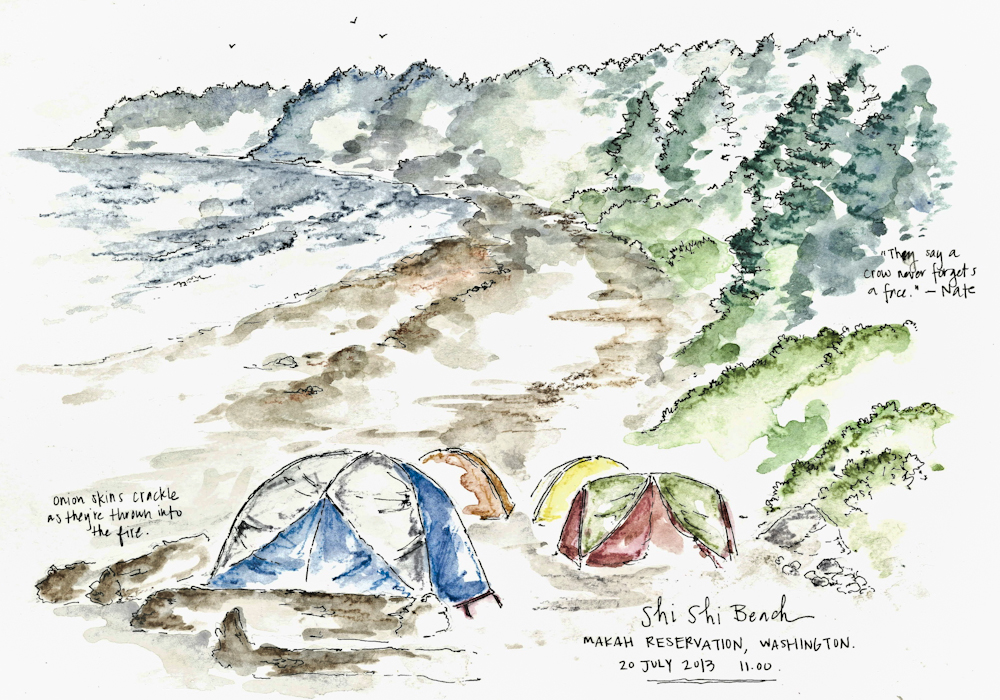 Don't forget I'm on the hunt for your summer sketches as well!