Sketching the Czech Republic: Serendipity in a cemetery.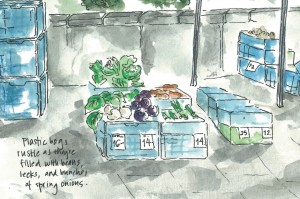 On a clear Thursday morning in Prague, my mother and I begin heading for the Vyšehrad.
While Nicolas, the doorman at our hotel, had recommended visiting this 10th-century hilltop fort as it has "a church, a park, and a cemetery," it was our receptionist Radek who really sold it for me:
"The area is Prague-Prague," he said, as opposed to, you know, tourist-Prague.
But after walking for half an hour, we are distracted by a humble market set up in the plaza by the Karlovo Náměstí metro station. There are just a dozen or so red tented stalls in a row – some offering baked goods like almond croissants, baguettes, and round loaves of bread, others selling pungent fish or sausages – but it's a produce stand that I'm most drawn to.
A sea of bright blue crates overflows with fresh fruits and vegetables, their prices displayed on pieces of paper that have been tucked into the crate below: carrots (mrkev) for 19 Koruna/kg, green beans (fazole) for 60 Kč/kg, and cherry tomatoes (rajče cherry) for 49 Kč/kg.
I spread out my sketching supplies on one of the plaza's wooden benches and begin to sketch the stall, as its owner Jana serves a steady stream of customers.
We have yet to reach Vyšehrad, but already I feel we've found Prague-Prague.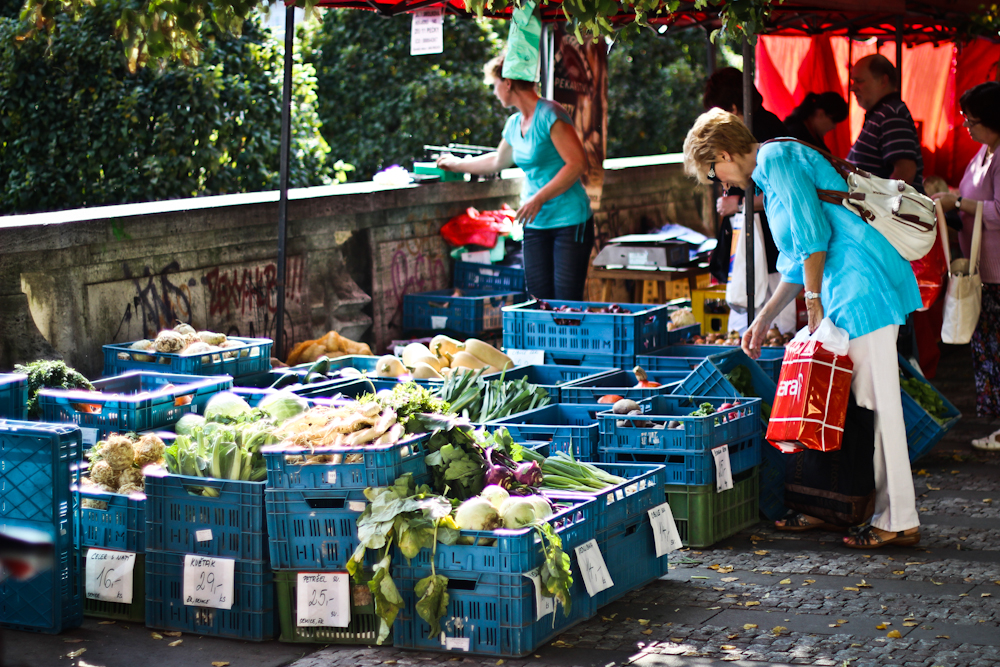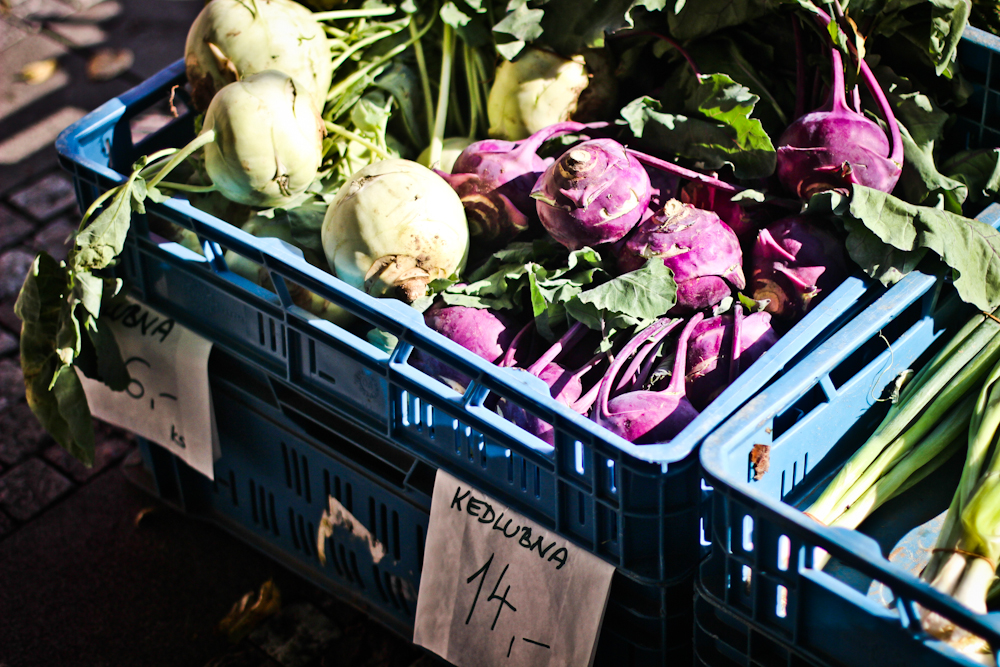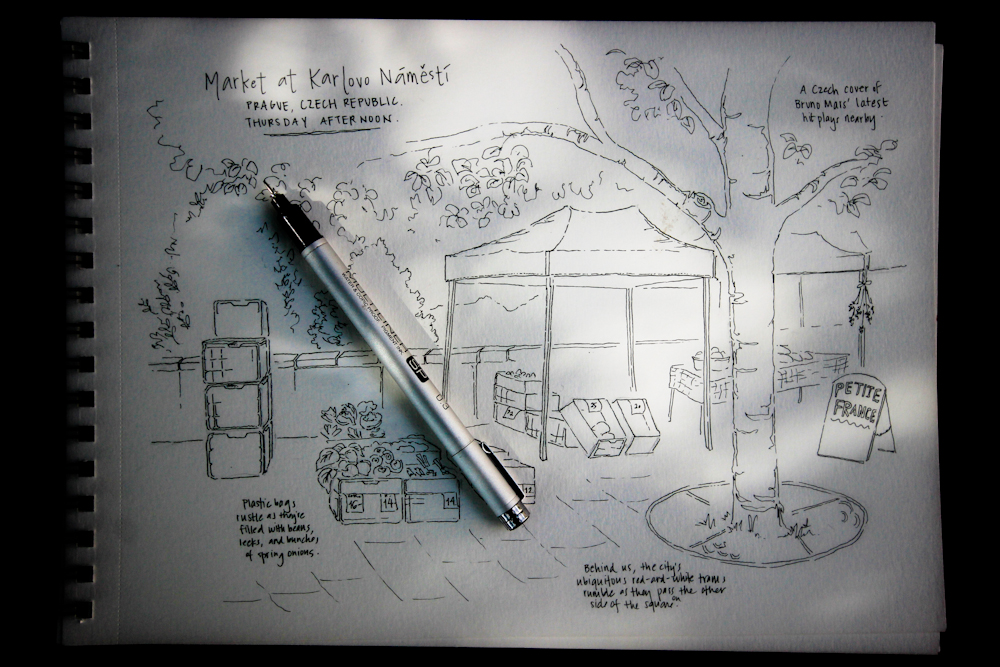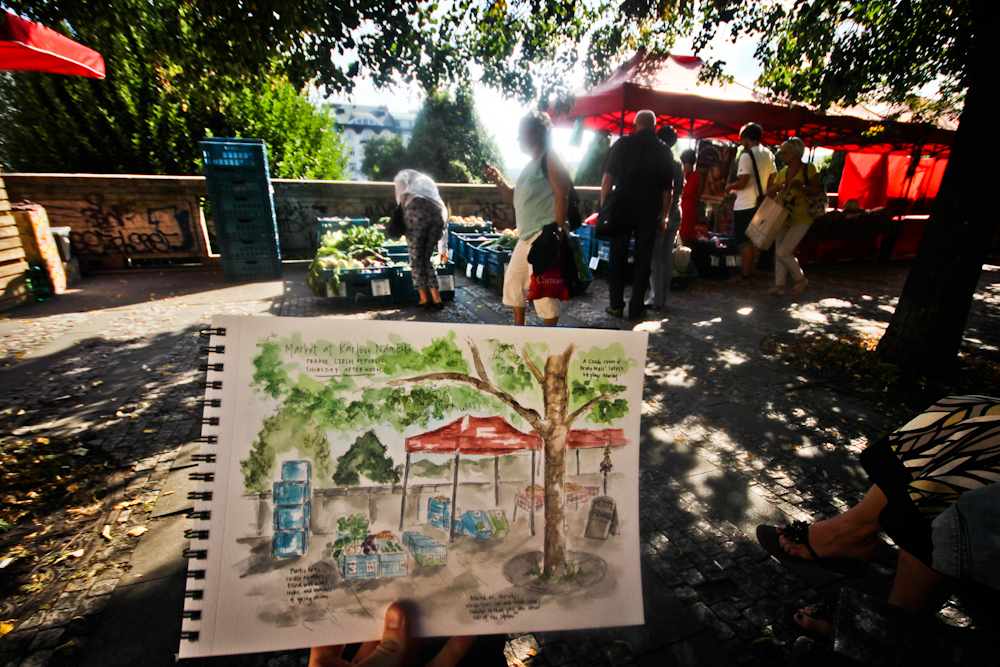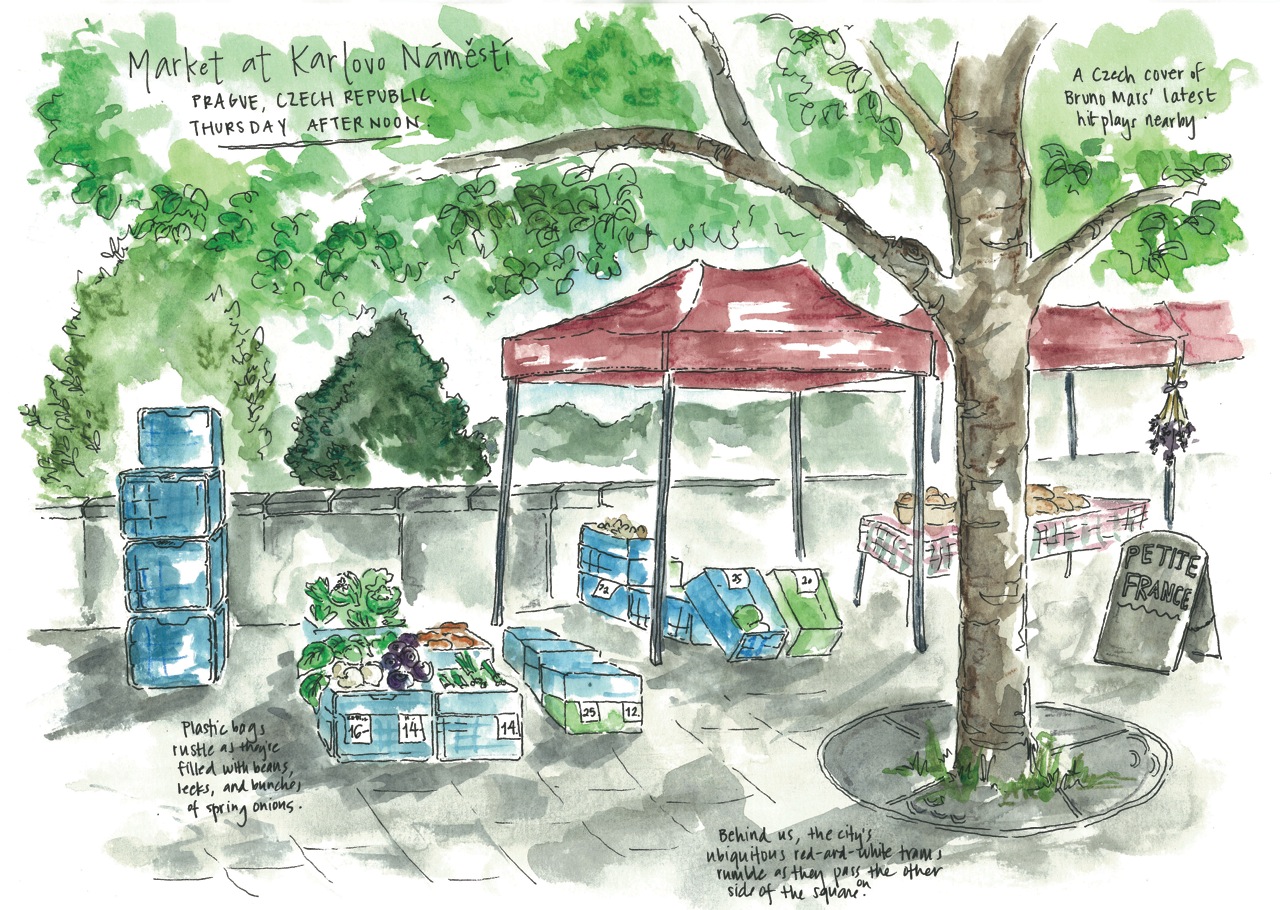 Later that afternoon, we finally find our way into the centuries-old cemetery at Vyšehrad. Candles in red glass jars glow softly on gravestones, just as the gilded letters of a Latin phrase written above the gate – Pax Vobis, or "Peace to you" – do in the sun.
We wander for a while longer, and then begin our descent back into the city. Around a bend in the path, we come across a man in a pumpkin orange polo shirt, sitting on a stone bench along the wall. I spy something between his fingers and a tiny hope flickers inside me that it's a paintbrush, just before smelling the smoke of his cigarette.
But as we grow closer, I notice there is indeed a plastic box of paints next to him and a small canvas on his lap. I gesture to ask if we can see it, and as he holds the canvas up to us, its surface as colorful and impressionistic as a kaleidoscope, I realize I've just met my first fellow artist on this sketching trip.
I think about how we had planned to visit here earlier in the day, about how my own sketch of the Karlovo Náměstí market had set us back a few hours, and can only marvel at this sudden twist of serendipity.
What if we'd missed him? What if our paths hadn't crossed?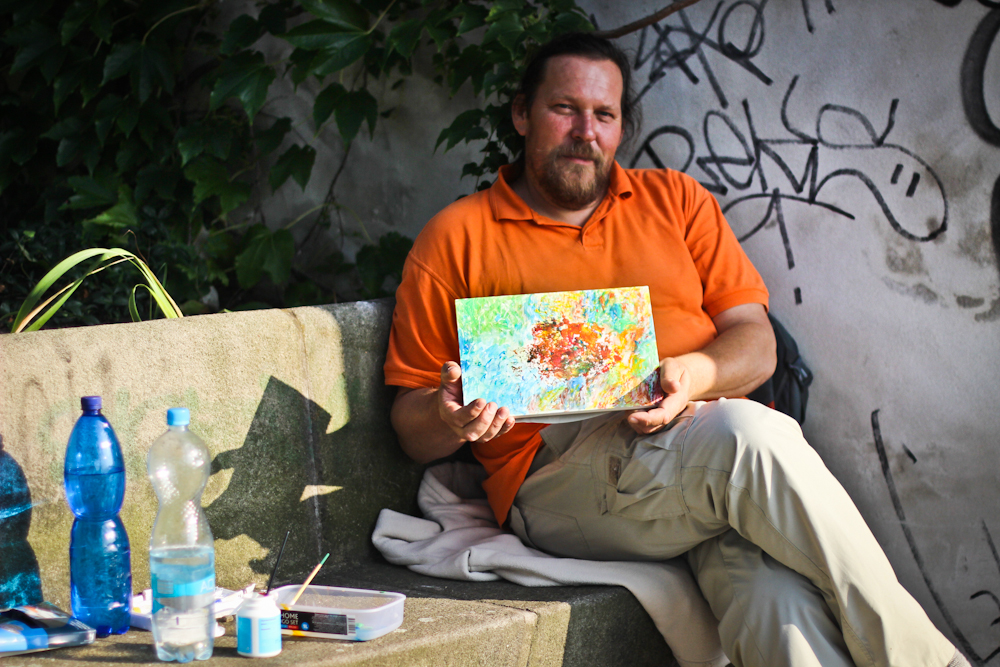 He tells us his name is Ivo, and to explain his art in English, chooses his words slowly but deliberately, like the most judicious Scrabble players draw their tiles.
"Make…more…beautiful," he says, pointing to his head as if to suggest that he is drawing from his imagination. "Abstract."
I want to have a conversation with Ivo, ask him how long he has painted for and where he gets his ideas from, but instead I simply extend my hand as we say goodbye.
Although he shakes my hand in return, I'm caught off guard when he places his other hand on the side of my face, like a father might do to his child, and holds it there for a moment, his palm warm. He then does the same to my mother.
"I think he just blessed us," she says as we walk away.
We return to the Vyšehrad the next day, again in the afternoon when the sun begins to lower itself towards the horizon and set the gravestones aglow, but our new friend is nowhere to be found. Even still, as I sit down to sketch the cemetery, it is Ivo I am thinking of while I paint:
Of the beauty that he gave to our time in Prague, and his blessing.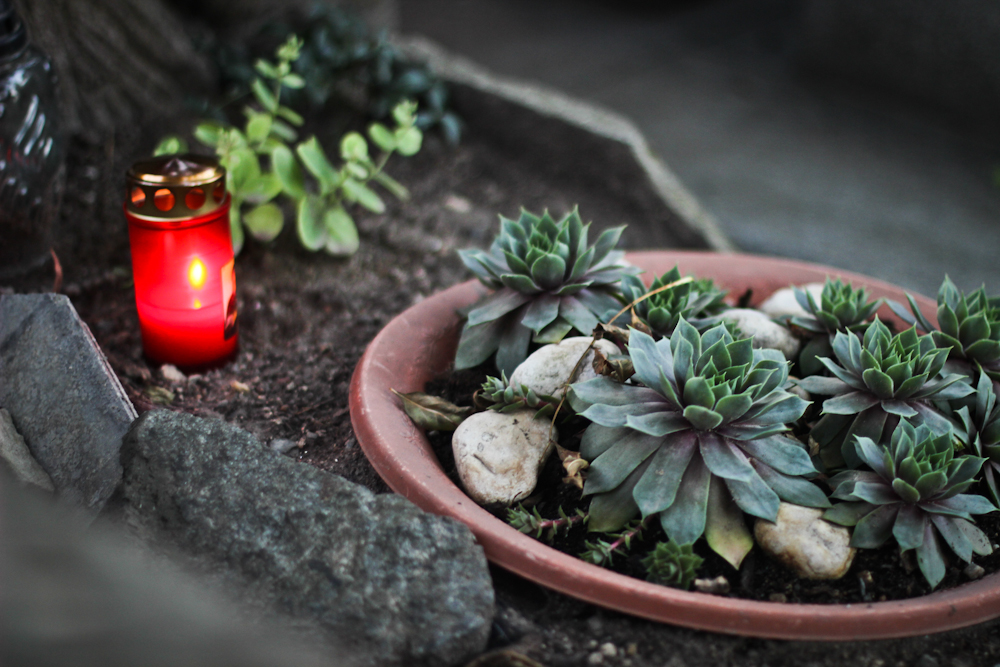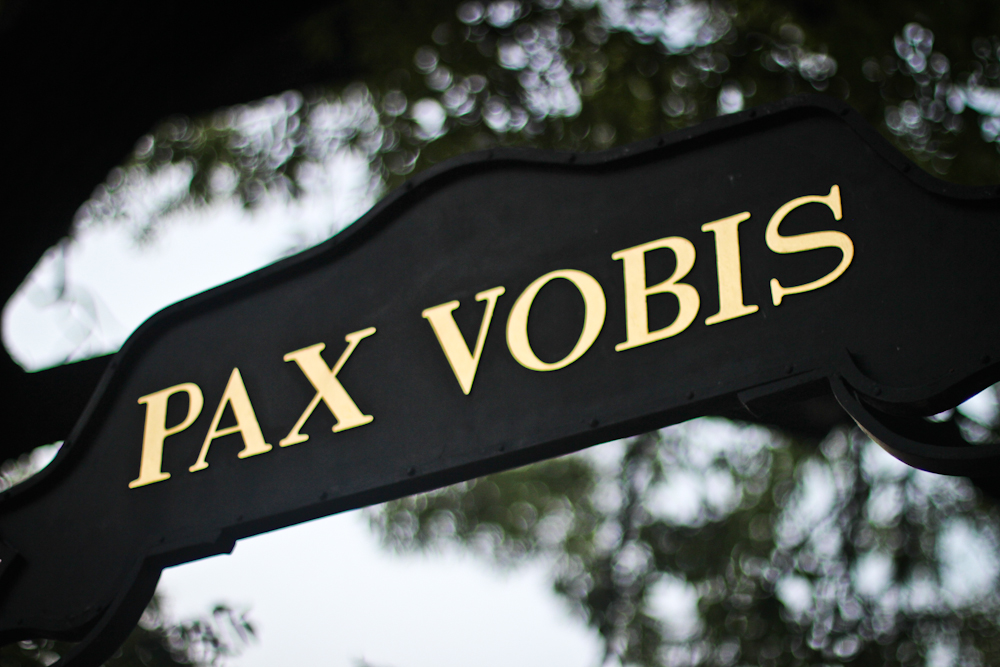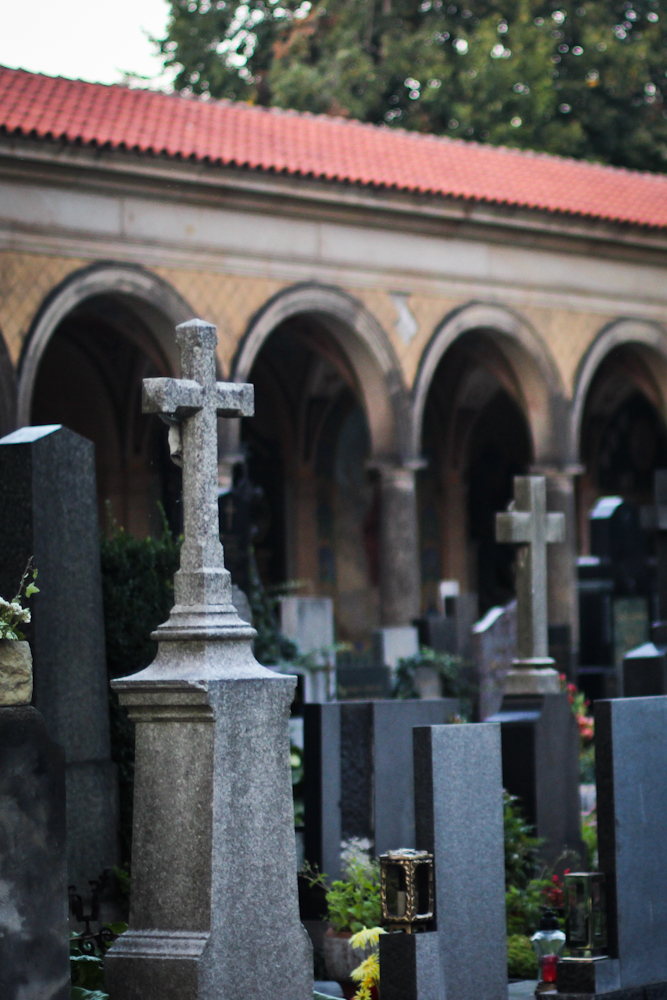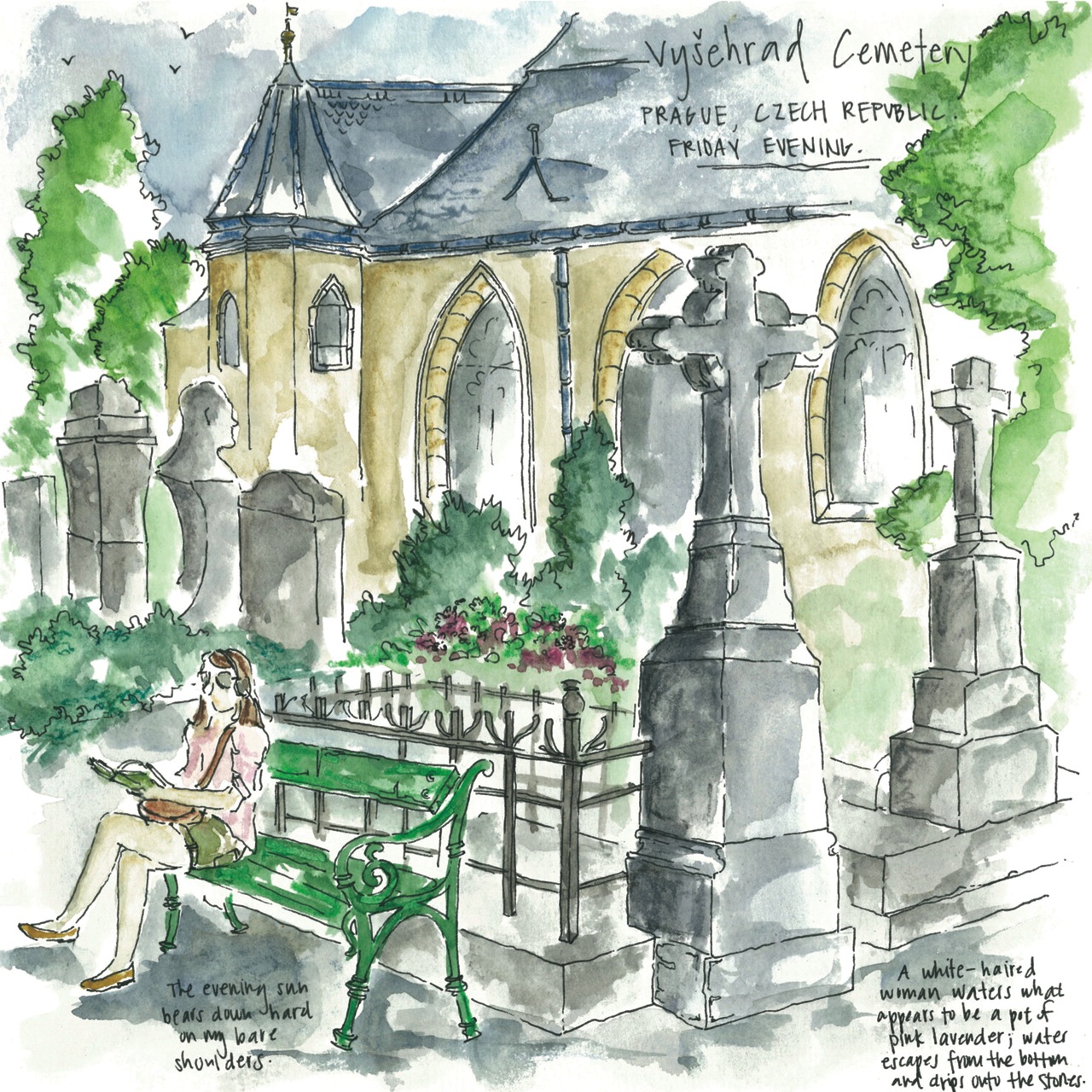 Travel sketch postcards:
Don't forget I'm sending one reader a watercolor postcard after each new sketch story is posted. All you have to do is leave a comment on a post, and by the time the *next* sketch story is up, I'll choose a random winner from those who have commented – big congrats to Morgan for winning the first postcard!