Six weeks of Beneath the Lantern's Glow…and a book-versary giveaway!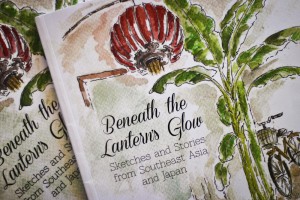 Amidst all of the magic of the Book Passage conference I've been raving about recently, one more quiet victory took place:
I did my first book signing!
I met my lovely friend Lou Ann at last year's conference and had no idea she was planning to return again this August.
Lou Ann is a fellow creative soul and keeps beautiful art journals that I was lucky enough to look through on the last day of Book Passage.
But it was on Saturday that she found me during our afternoon break and asked me to sign her copy of Beneath the Lantern's Glow. At first, I didn't understand why – with so many esteemed writers and editors on faculty, it made more sense in my mind that she'd want to maximize her time with them.
And yet signing my book for Lou Ann actually fit into a larger realization I had been working through all weekend: that perhaps one of the most powerful shifts that can take place in the life of a student is when we ourselves have something to offer.
We spend years honing our craft, attending conferences and workshops, and soaking up the wisdom of our mentors – in a way, we spend years taking – so to reach a point where we finally have something to give in return is not a small threshold to cross.
Although it's hard to believe that six weeks have officially passed since the launch of Beneath the Lantern's Glow, I want to take a moment and say thank you to everyone who has ordered it. Even more thrilling than launching the book itself is now seeing photos of it in your hands around the country, and around the world:
As I spend these next two weeks gearing up for my new sketching adventure from Prague to Petra, I have something of a favor to ask – if you've bought the book and found it even a tiiiiny bit enjoyable, would you mind leaving a review of it online? Here are two places to do so:
Amazon: I would be eternally grateful if you could take five minutes and leave a quick review of the book on Amazon.
GoodReads: Yes, I have finally joined GoodReads! I would love to have your review of Beneath the Lantern's Glow on the book's page there as well.
And because a giveaway just makes everything more fun, I'm giving away a set of my notecards to one lucky reviewer! All you need to do to enter is leave a review on Amazon or GoodReads by September 9, and then leave a comment below telling me you did so. (And if you've already left a review, you can definitely still enter…just leave a comment letting me know).
Thank you in advance for your review!
P.S. Don't have your copy yet?
Let's make that happen! You can find Beneath the Lantern's Glow on Amazon, or enter this new giveaway on The Global Bookshelf – big thanks to Gillian for the honor of answering a few questions about the book.